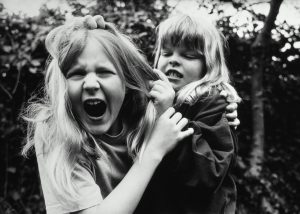 Have you ever witnessed a home which is quiet and peaceful, well if you have then you can be sure that there are no siblings around. Shouting, screaming, quarreling and calling each other names is a common phenomenon where siblings reside. But knowingly or unknowingly they are also the best friends in disguise. Here are some of the common reasons why sibling rivalry happens in the first place.
Personal Belongings
How dare you touch my phone? There are certain things that you consider quite close to your heart and there is absolutely no way you want someone else to touch it. Phone, personal diaries, camera, laptops and clothes can be some of the few things that you are quite possessive about and you are not ready to share it with anyone. And just in case you find them in your siblings hand you are definitely in for a fight.
Chocolates
You have always loved chocolates all your life and when it comes to sharing with your sister, the evil within you comes out. The age old statement "It's sweeter when you share" suddenly seems so wrong that you negate it completely.
Games
You can loose from the entire world in a game but you simply can't imagine losing a game from your sibling. So be it good or bad but you consider cheating to be absolutely a fair thing to do. It lets you have some of the worst fights with your siblings which suddenly turn into some dreadful battles.
Who's the best?
You might have had innumerable fights as to whose mom's favourite? Who has won the maximum number of accolades be it in sports, studies or extra-curricular activities? The more achievements and awards you have the better you are as a person. And you work really hard to ensure that you bag the maximum number of them.
Jealousy
Since the time of your birth, you develop an inherent jealousy with your siblings and it could be related to one thing or the other. This jealousy is often the reason for internal fights between siblings which sometimes even lead to massive battles.
Despite the innumerable fights that exists between siblings, there is an inherent love too that exists between the siblings too. Therefore, without fail, send rakhi to India or any other destination with absolute ease if you are not celebrating it together this season.