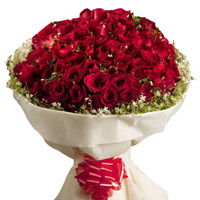 Flowers make people happy and generally feel better. They are known to eliminate stress and enhance longevity. The health benefits of flowers have the subject of various research studies in the west. The results show that flowers are a natural and healthful moderator of moods. As the saying goes sometimes " you have to stop and smell the roses" So the next time you want to give someone a gift , why not choose one that will bring a smile onto the receivers face and also has tremendous health benefits
Flowers to Gurgaon will reflect your love and caring. Send flowers to Gurgaon from the comfort of your home.
In our fast paced lives stress is a significant and negative factor in our lives. The presence of flowers triggers happy emotions, heightens feelings of life satisfaction and affects social behavior in a positive manner The research findings have shown that
Flowers have an immediate effect on happiness
Flowers have long term and positive effect on moods
Flowers make intimate connections.
Flowers have also been known as nature's support systems that help seniors with the difficult challenges of aging. The study reports that
Flowers decrease depression
Flowers refresh recent memory
Flowers increase companionship
Flowers can do a world of wonder for our well being as we age. Research has shown that flowers help aged people to cope with the challenges of old age. They increase longevity and improve the quality of life by eliminating stress and anxiety.
Researchers have found the morning blahs to be a real life phenomenon. Happiness joy and cheerfulness come later in the day. Flowers have been found to be gentle mood elevators and to chase away the morning blues. A bunch of your near and dear ones' flowers is a perfect way to begin the day.
Flowers at the workplace have been known to enhance productivity. They boost the environment with an injection of enthusiasm, energy and increase commitment levels. Flowers in the workplace have many benefits that the employees may not even realize.
Flowers are known to heal the ill. By uplifting the spirits they affect body and mind in positive ways. People who are convalescent benefit greatly with the presence of flowers.
Flowers speak a language that is more eloquent than human speech. Therefore they make ideal gifts for all occasions-Mother's day, father's day, birthdays, graduations, anniversaries, get well soon, and many more. Send flowers by birth month with a small personalized note about their significance and you will have created the ideal gift. Intersperse your gift of flowers with chocolates and personalized notes and make them truly unique. Flowers to Gurgaon are the very best at the online stores. Send flowers to Gurgaon as an expression of your love.