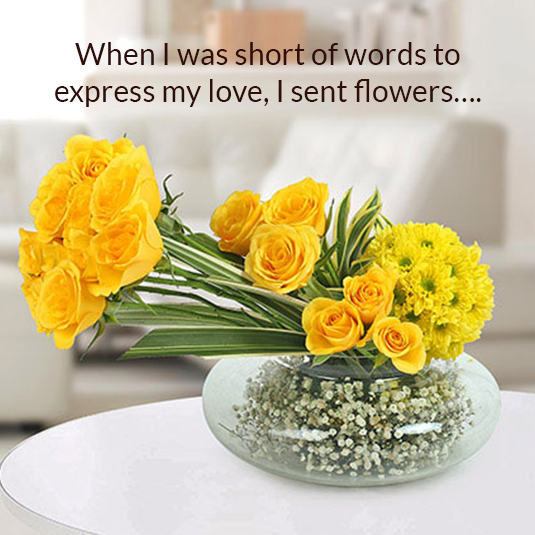 Early Morning Texts, Late Night Calls, Movie Nights, Dinner at fancy restaurants, long drives and what not! – We all have 'been there and done that'! There comes a pivotal point in every relationship where it demands to be – REAL! Ridiculous, Consuming and Can't-Live-Without-Each-Other Phase! Where words fail to surpass feelings and one goes the eternal way of expressing love – with flowers!  Flowers convey the feelings of the heart when all else fails! They are the real messengers of feelings ever since love sonnets were written.
We present you 5 amazing ways to express your heart's most sincere intentions to your loved ones.
Flowers are Healers
Our emotions are like the beautiful blooms in a garden, which one may not touch, but whose fragrance makes the entire space a place to remember. Flowers deliver the unspoken message of sympathy and harmony when a friend or a loved one go through challenging times. White Lilies and Roses are best messengers of peace when a special someone is in need. They give out the message out loud to the recipient "Where Flowers Bloom, So Does Hope!"
Flowers are Love Messengers
Love cannot be properly defined without the mention of roses. Love is a strong feeling that is divided into two and roses bring these two people in love close. As the traditional symbol of love and romance, Red Roses are the perfect way to say, "You're the one," to a lover. The rulers of romance, roses are an instant take-me-home and have energies to let lovers open their heart to each other.
Flowers have Powers
Someone said it right, "What a desolate place would be a world without a flower!  It would be a face without a smile, a feast without a welcome.  Are not flowers the stars of the earth, and are not our stars the flowers of the heaven." They have the most magical powers to lighten up a person and even a place with gloomy vibes. Their mere presence is enough to brighten up dull moments of everyone's lives.
Love is…Where Flowers are!
A flower cannot blossom without sunshine and lover cannot confess his affectionate desires without flowers. When a person is in love, they have a smile on their face and the essence of red roses brightens up their day. Romance in modern-day and even traditional relationships begin with a bouquet of roses. There is no denying the fact that flowers speak the language of love. So, the best idea to express, propose, or reassure your love, you must use roses, orchids, or bird of paradise.
Flowers Make Everything Beautiful
We can learn a lot from flowers. They teach one the message of "head held high" and to stick to one's true roots even when there is no room for recognition. Every little and new flower twig is the sign of victory on its own, and one should celebrate their victories, be it small or big amidst the sea of people. Therefore, as a token of best wishes or to congratulate someone dear, you must not forget the colorful blooms.