My blog title itself suggests the topic of today. Yes, the fascinating world of cinema took birth in our land 103 years ago and it's still being born every Friday. The father of Indian cinema Mr. DadaSaheb Phalke or Dhundiraj Govind Phalke made Raja Harischandra but passed on the guardianship to the rest so that cinema breathes even when he is not around. But that fellow is pretty much around us because it was his sheer confidence that brought so much courage in us that in today's date we are the biggest film making industry in the whole world. In a country like India, cinema is no less than a pseudo religion where general public iconize the stars.
Mr. Satyajit Ray said that Cinema is the highest form of expression of art. And this art embodies all the shades of our emotions. Laughter, sorrow, love, hate, betrayal, etc. all have been marvelously explored through cinema for ages. And with time it has become an intrinsic part of our lives. When we are depressed, we watch movies, when we are happy we watch movies and this relationship has just deepened. The whole phenomenon called Indian Cinema embodies not only the star actors but also directors, story writers, screenplay writers, music directors, editors, cinematographers, etc. There is so much to say about each department of Cinema that one blog won't be enough. Just because star actors are the prime driving force behind audience in cinema theaters, I would talk about famous dialogues, songs, and movies that was made popular by these people. Guru Dutt, Raj Kapoor, Dev Anand, Amitabh Bachchan, Uttam Kumar, Soumitra Chatterjee, Rajesh Khanna, Dilip Kumar, Prosenjit Chatterjee, Mamoothy, Rajnikanth, Kamal Hasan, Dev, Shahrukh Khan all have massive contribution to popularize the culture of cinema.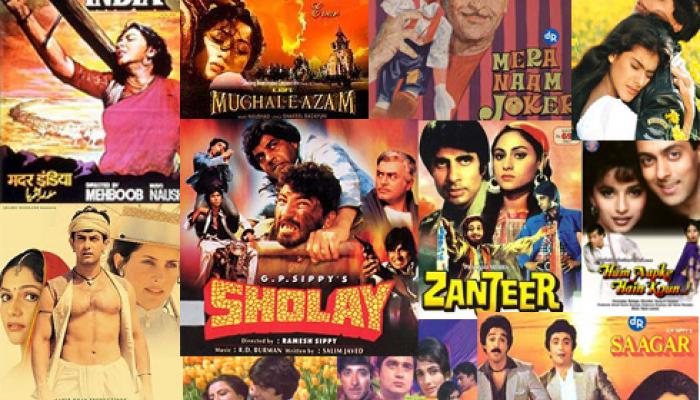 Saying happy birthday to our Cinema means celebrating our life in a larger sense. Let's remember some of the most breath-taking dialogues of Indian Cinema, especially Bollywood (just because Mumbai was the birthplace of Cinema and it is still the most popular medium of movie) that are engraved in our heart for their deep meaning.
Madhubala says dreamily in Mughal-e-Azam; Phool toh murjha jaate hain … lekin kaante daaman thaam lete hain – Flowers do wither … but thorns stay over.
Rishi Kapoor Says in Bobby; Koi pyaar kare toh tumse kare, tum jaise ho waise kare. Koi tumko badal kar pyaar kare toh woh pyaar nahin, sauda hai – If someone loves you, he should not try to change you, if he tries to change you then it's not love, it's only a transaction.
We get the best of Waheeda Rehman in Guide; Marco, mein jeena chahti hoon – I want to live, Marco.
Till today we all go crazy when the baritone says; Main aaj bhi pheke hue paise nahin uthata – Even today I don't collect money that is thrown.
In Amar Prem, a drunk Rajesh Khanna says; Pushpa, I hate tears… inhe ponch dalo – Pushpa I hate tears, please wipe them.
Our Shahrukh Khan could build the lavish Mannat due to this epic movie Baazigar where he won hearts saying ; Kabhi kabhi kuch jeetne ke liye kuch harna bhi padta hai, aur haar kar jeetnay wale ko baazigar kehte hain – Sometimes to win you must lose something … and one who wins from a losing position is called a gambler.
The greatest blockbuster of all time Hum Aapke Hai Koun holds the dialogue; Zindagi ki khasiyat hai yeh kabhi jhukti nahi … saanse ruk jati hai magar zindagi rukti nahi – It is the specialty of life that it never bows down … breathing stops but life never stops.
The iconic Villain Gabbar in Sholay says; Bahut yaraana lagta hai – It seems you are very close friends.
Amitabh Bachchan, the lovelorn from SIlsila says; Phool khamosh rehkar bhi apne rang aur khusboo se bahut kuch keh jaate hai – A flower stays quiet but it still says a lot with its color and fragrance.
From the pens of Salim-Javed we get the most touching dialogue ever from Deewar; Mere pass Maa hai – I have mother.
Yash Chopra creates a magic by making Aruna Irani say in Dil To Pagal Hai ; Pyar bahut baar ho jaata hai … lekin mohabbat sirf ek baar hoti hai – You can fall in love many times … but passion for love can only happens once.
Love takes a different meaning in Veer Zaara; Sarhad paar ek aisa shaksh hai … joh aapke liye apni jaan bhi de dega – Across the border there is a person … who can give his life for you.
Salman Khan says in Kuch Kuch Hota Hai; Jabse tumne pyar ko samjha hai, pyar ko jana hai … sirf us hi se pyar kiya hai – Ever since you have understood love, known love … you've only loved him.
Piyush Mishra says in Gangs of Wasseypur; Har yaar wafaadar nahi hota … har patthar chamakdar nahi hota … na jaane baag mein kitne phool khile hai … har phool khusboodar nahi hota – Every friend is not faithful … every stone is not shiny … who knows how many flowers have blossomed … because every flower does not have fragrance.
A recent blockbuster Raanjhana has this famous dialogue; Duniya thookegi mujhpe agar pyar kar liya tujhse … par dekh, pyar kar hi liya na – The world will spit on me if I fall in love with you … but see, I did fall in love with you.
Glancing through these dialogues, you also must be drenched in nostalgia now because these iconic dialogues somehow inspires us in our daily lives and till the time there is cinema, we would keep on being inspired towards life. Actually, the things we see hammers in our brain in a better way. The cinematic elements makes us learn the best answer to girlfriend, surprise gift for boyfriend/girlfriend, or an emotional reply towards parents (remember 3 Idiots). I am sure that any movie buff would have small stories attached with these dialogues, so remember them and relish with friends. For me, Cinema is oxygen for only one fact – there have been people who left me but cinema never left me and I am sure till the time I am alive it will keep me motivated.
One last but the best dialogue about life for all of you; Babumushoi, zindagi aur maut upar waale ke haath hai … usse na toh aap badal sakte hai na main … hum sab to rangmanch ki kathputliyan hai jinki dor upar waale ki ungliyon mein bandhi hai – My friend, life and death is in the hands of God … you can't change it and neither can I … We all are puppets of the theater whose string is tied in the hands of God.
A very flowery birthday to you Indian Cinema…..Long Live.