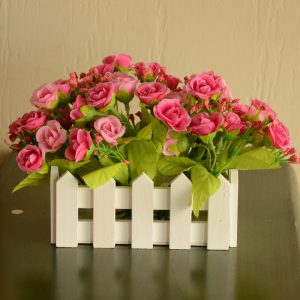 Flowers are synonymous with grace and beauty. They are an essential part of human celebrations and events as decorations or as gifts. But some blooms are not available all year round and this is where artificial flowers come in the pictures. Artificial flowers are lifelike imitations and replicas of natural flowering plants and they make a wonderful substitute for fresh flowers. They are mostly used for commercial and residential decorations.
Artificial flowers are sturdy and long lasting; one can create out of season blooms with them which makes them perfect as gifts. Look for a variety of replicas of your favorite flowers such as roses, dahlias, gerberas, dandelions and orchids among others online. You can shop for various artificial arrangements which is sure to delight the one you love. Many expert florists prefer have arranged some of the artistically designed faux flowers which is sure to delight the one you love. Order artificial flowers online at our portal and avail the maximum benefits on your orders. You can also send discount artificial flowers which we offer on bulk purchases or festival sales.
The flowers are made from silk, paper or plastic materials and the craft in making them is so specialized that it takes more than just a glance to distinguish them from natural flowers. We are the best flower shop online, and you can also find a selection of artificial flower bouquets online for delivery anywhere and at any time of the year. Order your flowers today and send flowers to any other destination around the world. The artificial flowers are not just gorgeous to look but at the same time, they look quite similar to real flowers. These flowers make great centerpiece for your living room space
For your artificial flowers arrangements online delivery all you have to do is pick the flowers of your choice and tell us where you want it delivered. Leave the rest to us and you can confidently rest assured that your artificial flowers will reach on the stipulated time and in perfect conditions. So, on this special occasion go for these beautiful artificial flowers as a gift from your side to the one you love.