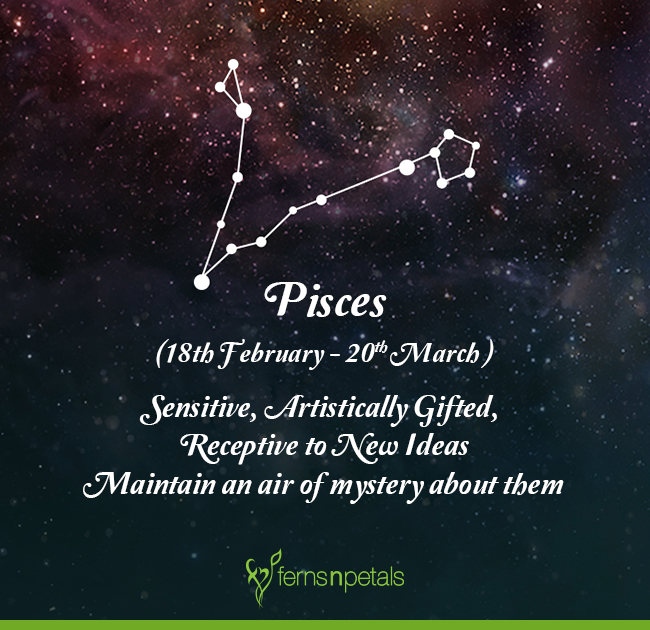 Once upon a time, in different lands far-far way there were infamous people who excelled in their lives and shared one common trait. The first person sang "Don't Stop the Music" and the world danced to her beats. The second person invented the biggest mobile company in the world and the third one went on to become the most influential leader of his time. We hope you have guessed either the former or the latter! If not, then let us give you a clear picture of who these people are and which common quality is shared by them.
The first person is the Singing Sensation Rihanna, The second person is Steve Jobs – The founder of Apple Inc. And, the third one is Abraham Lincoln – The 16th President of The United States. The common trait that these three eminent figures share is their Zodiac Sign. Yes, we know you just dropped your jaw. People who are born after the winter winds fade away and before the onset of spring share "Pisces" as their Sun Sign. These people are dreamers, passionate lovers and extremely authentic in whichever they job they do.
Some More Information on Pisces:
Symbol: Fish
Birth Date: 18 February – 20 March
Ruling Planet: Neptune
Element: Water
Compatible Signs: Sagittarius, Cancer, and Taurus
Lucky Colors: Sea Green and Aqua
Lucky Days: Thursday, Saturday, and Sunday
Positive Traits: Integrity, Responsibility, Authenticity
Negative Traits: Weak-Willed, Selfless, Lazy
Strengths: Merciful, Artistic, Musical
Weakness: Escapists, Afraid of Too Many Things, a common prey of situations
Pisces are very friendly, so they tend to enjoy the company of distinguished people. These are selfless people who are always willing to help others, without hoping to get anything back. Pisces is a Water sign and as such this zodiac sign is characterized by empathy and expressed emotional capacity. Their ruling planet is Neptune, so Pisces are more intuitive than others and have an artistic talent. Neptune is connected to music, so Pisces reveal music preferences in the earliest stages of life. They are generous, compassionate and extremely faithful and caring. We are sure you've already nodded on the above qualities of your known Piscean. Since it's their birthday month, let's plan the best gift ideas for Pisces people based on their personality.
Pisceans are ruled by Neptune so their inclination towards music in very early stages of life is evident. They tend to be very arty and enjoy music in any form. Pisceans are said to be joyful when in good company hence gifting them a musical instrument should be your top pick. Guitars, Violins, Mouth-Organs or Drums form one of the best gift ideas for Pisces.
Pisceans are extremely responsible but they tend to forget a lot of things because of their over-thinking traits. They understand the knowledge and power of language – spoken or the written word so a diary is an ideal gift buy for them. If you do have a Piscean friend in mind just like we described then send him a diary or a journal.
This water sign is a big-time nature-lover and loves to travel to every length and breadth of different territories. Their love for nature goes on without exhibiting much. Green Gifts are such thoughtful gifts that you can present your Pisces friend with. If you bank on clichéd option then you'll be looking forever because this zodiac sign's fussy nature. So, a Plant would be one of the thoughtful gift ideas for Pisces.
As much as a Pisces enjoys traveling, she/he also enjoys the company of their good friends. They are the ones to plan the biggest getaways and also the ones to execute them. This year, thank your Piscean friend with the most affectionate symbol of gratitude – chocolates. Chocolates are one forever keepsake gift ideas for Pisces and never fails! We promise!
Notice this in your Piscean friend that they are socially active but they hardly pay attention to their own needs. For their birthday month, send them personalized gifts by framing their best memories on mugs, cushions, table lamps or mouse-pads so that they love themselves materially as they do to others!
Since you'll be celebrating their big day with great pomp and show, take the best cakes as gifts for their birthday party. A perfect gift idea for Pisces includes the name of photo cakes, designer cakes and also fondant cakes. So, make their birthday a grand affair – just the way they love!
Just imagine how your dear Piscean will light up with the widest smile as soon as she sets up her eyes on attractive flower arrangements. Flowers are not just mood-up lifters, they carry something very magical wherever they are kept and spread their magic on whomsoever they are gifted to. Give away flowery surprises to your Piscean friend this February/March.
We've reached the end of our post and with this, we wrap "the best gift ideas for Pisces". Happy Gifting!