In our life apart from our mother, father and our teachers, there is someone who respects the most, someone who made our time worth with them and memorable, our grandparents. They even make us feel comfortable and entertained by sharing their jokes and experiences and experiences is all we want when we grow up in our lives, their guidance is the best we can have which paves the way for the betterment of our lives as we grow up. As a person moves on with his lives it's all experience that he gains and at last it is all that matters.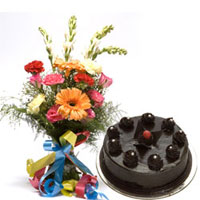 Words of wisdom given by them it worth not forgetting and those are the only things that a human being socially inherits from their grandparents, so when it's their birthday it has to be the best they ever had.
 We are always here to help you to make the birthday of those special ones the most unforgettable blissful ones. For your grandpa we have tons of gifts which will not even make him smile but will also give him the utter satisfaction of happiness that every grandparent expects from their grandchildren. Your grandpa may be fun loving or the very serious one but no matter how he behaves you know it that he has that special place in his heart for his small beloved ones. The merrier it can be we try out best not just to remain materialistic but also carry forward the sweet thought of kindness and love that binds few of the most important relationships that someone shares.
Ferns and petals is at your service with all the ever best gifts that can be in the world when it is the matter of expressing your feelings of love and specially respect to your loved ones. We are readily available to deliver at any desired time and mostly all desired places all you have to do is to reach out to us and place your order else it's up to us to take care of your feelings and also of your closest ones. You can log on to www.fnp.com for more information and can also use our store locater to locate our store or just give us a call on +919212422000 and we will make sure that your gifts end up with the same dignity as you desired. For us the customer's thought is always that counts.