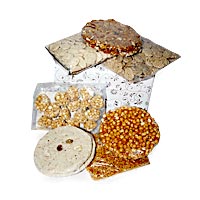 Only festivals are the occasion when you get an opportunity to be with your family and spend quality time together and once again we have Bihu although very popular in East India its celebrations gather crowd all over the country. We at Ferns N Petals are pretty sure that you definitely want to be home for this wonderful festival but work load just makes it impossible so now with our pay on delivery offer you can easily order a surprise gift for your family who are residing in your home town. It is always not necessary to mark your physical presence always rather you can always be in their hearts and make them remember you. We deeply understand everyone wishes to be with their family but in life we need to deal with every situation so why not order something really nice for your lovely family.
You can send them a bouquet or you can always order for a nice gift hamper for your family and believe you me all these gift hampers are available in great variety and we guarantee that the packaging and delivery will be on time and no damage will be caused to the product. We strongly believe in charity so this Bihu if you purchase anything from our store ₹ 2 will go to orphanage. So now you get double reasons to celebrate and bring your near and dear ones more close to your heart. Imagine how surprised your relatives or friends will get when they receive a present from you. If you are thinking that products are going to be expensive you are badly mistaken because for us festivals are a gift of god when we forget everything and stand united so we want to make maximum of our customers happy and assure that everything would be affordable.
If you wish to decorate your home this festival then we have some glamorous home décor designs like the bamboo look collection or the traditional collection which will give a very classy look to your house and portray an ethnic design. Our every Ferns N Petals store has kept a surprise this year and on Bihu that gift will be delivered in any of the house of our customers and surprise as well as shower them with exclusive Ferns N Petals hamper. So be ready to get surprised but for that you need to get ready to join us in our celebrations by ordering something for your family. So quickly come and visit us or our online store and grab the best deals before someone else does and make everyone happy!!