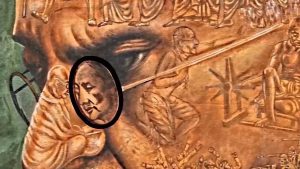 For this upcoming Father's Day I don't know how many of you are thinking about the great soul named Mohandas Karamchand Gandhi, but I am soaked in his thoughts totally. A dhoti and chappal clad intellectual liberated our country from a 200 year old bondage – that's the simplicity and innocence of this father. He had something so enigmatic in his personality that he became Baapu for the whole nation. He fought for unity and integrity of the nation and after 68 years of independence can someone tell me, how unified we are?
Even after 67 years of his death, movies, dramas, and plays are made on him and they walk long road to win accolades and appreciation. Example: Gandhi by Richard Attenborough won 8 major Oscars, Lage Raho Munna Bhai by Rajkumar Hirani won 4 major National Film Awards, and 4 Filmfare Awards, and was also the first Indian movie to be showcased in the United Nations.
Writing something on the unity, integrity, ups and downs of our country for the occasion of a Father's Day may seem bizarre to you, but this is related believe me. All of you must be thinking about your father or gushing about your dad's contribution to your life. But no one is going to talk about Gandhi, who became the father of each and every one. People talk about his ideas, principles, and greatness only on 2nd October and keep him in frames, books, and road names for the rest of the days. He fought for a unified nation and not for a country that is paralyzed with corruption, deceit, and unlawful activities. So, paying a homage to him would require a cleansed thought and a better attitude for life principles.
If as a country we don't remember M.K. Gandhi on the eve of Father's Day, we would fail somewhere. There was a dialogue in a hindi movie that can be summarized as: Gandhi fought against all odds to give us freedom with non-violence as his strength, and we stamped his picture in the greatest weapon of violence, i.e., currency notes. Yes, this is true that we do every possible and impossible thing for money and end up in our own mental jail. Most of the times we are actually unable to draw a decent difference between money and happiness. Again it is not our fault, it is something that is the need of the hour. If you are not successful, no one would be your friend or relative. And once you start earning money, even strangers want to become your relative. Strange is the world.
But you can stop that by becoming more patient towards people. I am not saying that sit at home and don't earn anything to pay your bills, or go to the Himalayas to stay away from people. But what I mean here is after a day's hard work and earning money, when you face yourself in the mirror you should feel proud of yourself. The world around us is changing so we have to adapt to newer means of living but there should be some ideologies that should be followed by you. Read books on M.K. Gandhi written by him or by other authors like Soul Force, The words of Gandhi (Richard Attenborough), or Mahatma Gandhi: His Life and Ideas (Charles F. Andrews and Arun Gandhi) and make your life a better place with a change in your attitude and that would be the perfect Father's Day cake for him.