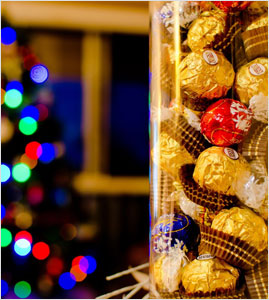 Chocolates are a classic gift for new years. They are an ideal expression of live and the perfect way to usher in the New Year. At Ferns N Petals we take chocolate gifting very seriously. Browse through our awesome collection of New Year gifts which will reflect your inordinate love for your loved ones.
Researchers are extolling the benefits of chocolates as a whole food. They are no longer considered to be decadent and a way of piling on the calories. Dark chocolate is loaded with antioxidants and disease fighting flavenoIds. It is found that it lets you get through PMS. It may lower cholesterol. It may prevent pregnancy complications; it helps prevent heart disease; it may improve your skin; it has pain killing properties; Chocolates in the right quantities have immense health benefits.
At Ferns N Petals we have a new range of mouth watering chocolates for you to browse. New Year chocolates consist of love chocolates, chocolate bouquets, personalized chocolates and luxury chocolates.
Love special has an awesome collection of chocolates that are expressive of your love. Love that soothes Nerves is a case in point. This calming present consists of a tower of Ferrero Rocher chocolates decorated with artificial flowers and berries. The beautiful blue chocolates basket is as yummy as it is attractive. It makes a memorable present for New Year. Heart shaped flavored chocolates are the perfect expression of love and passion. Cutie pie is a beautiful basket of Ferrero Rocher chocolates with an adorable teddy bear.
Chocolates bouquet is a unique collection of chocolates in an enticing bouquet. Hugs and Kisses is a collection of teddy bears and chocolates in a bouquet shape. The Ferrero Rocher bouquet is a spread of chocolates packed in a bouquet arrangement. Gift your loved one the heart shaped chocolate bouquet and reveal your innermost emotions. The Pink Ferraro Love Bouquet is a delightful piece in beautiful shades of pink.
Personalized chocolates are a novel idea. Boxful of love comes out of a heart shaped chocolate box that is very charming. I love You Sis is ideal for the sister you are so fond of. My best brother chocolates cannot be ignored. Send your brother a gift of love.
Our perfect delivery system ensures that these New Year chocolates are delivered to your door on time and in pristine condition.