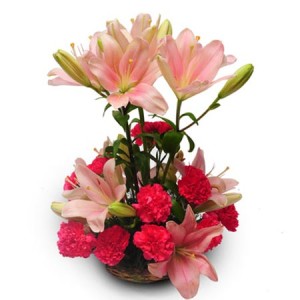 Flowers are traditional Christmas fare. At Ferns N Petals we live and breathe flowers. For us Christmas is a premier event and we put our very best flowers out for this occasion.
Flowers speak a language of their own which is far more eloquent than human speech. That's why we put our flowers forward to wish you a very merry Christmas!
At Ferns N petals you can choose from flower bunch, glass flower arrangements, flower baskets, designer bouquets, and flower combos. Our flowers can be customized to suit individual tastes. Our flower combos are made up of flowers with cakes, chocolates and soft toys.
Our swift and efficient domestic and international delivery offers same day delivery for this joyous occasion.
Send Christmas cakes and flowers and create a sensation. Our flowers are sourced from around the globe and therefore you will find the rarest and most exotic tropical varieties always in season.
Pure love roses capture the very essence of romance. They are vibrant and vivid and create a lasting impression. Exotic beauty is a collection of the most exotic orchids that are sensuous and tropical. Elegant mix is a colorful array of beautiful rose blooms. Sweet Pink is a collection of delicately colored pink roses that will create a lasting memory. Authentic Love is a staggering collection of reds with seasonal fillers. Accord Bloom is a splash of yellow color that lets in the sunshine. Romantic tickle is a refreshing presentation of red and white roses that are fresh and invigorating. 5 pink carnations are delicately frilled and provide an alternative to traditional roses. Big hug are golden yellow roses encircled by the purest red roses that money can buy. Cloud 9 is a mix of tumultuous roses that are sure to create a stir.
Lilies and orchids make up stupendous glass flower arrangements. Make Up her Mood Today is a splash of golden daffodils. Contemporary elegance is a mix of flowers with an easy country charm.
An impeccable delivery system promises to do a same day delivery within India and abroad. We strive to make valentine's day the best you have ever had, this year. Send Christmas flowers from Ferns N Petals and you can rest easy that they will be of the very best quality.