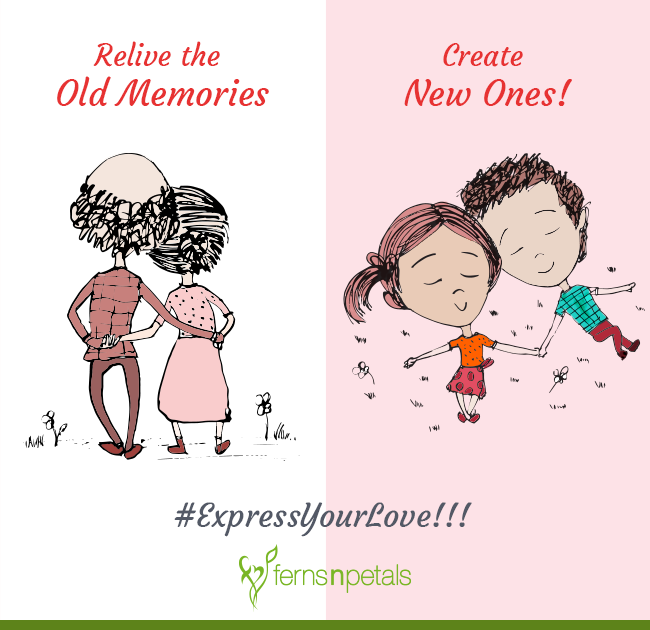 The best things in life are the people you love, the place's you've been, and the memories you've made along the way. Memories come back in flashes, no matter how many times you re-live them they will never be real as they were. As time passes sometimes they just fall on the pile of thoughts, but you never forget them, they stay with you forever.
Even if you want them back, you know they are in the past for some reason, no matter if they were good or bad, you know when you look back, and that they should stay as memories, which no one would ever take them away from you. Such is the game of memories – They let us stay attached, detached and sometimes they just don't even let us act.
2018 started on a wintry note, throwing all its cold waves at us! It is time for January to become another "memory". Let "February" – The eternal month of love to take its place. This short month feels huge when one is in love! A time so full of affection that there is mushiness all around. The hearts are floating not just in emoji's but in reality.
This love season shower all your love that is hidden deep behind the walls of your heart and create new, fond memories with gifts from Ferns N Petals. Let's simplify all your love-related queries based on the type of relationship you are in. Read on below and check these Valentine gifts to create new memories with your partner!
Married for a long time: If you are celebrating yet another year of togetherness, make it more special with our astounding range of gifts that will make your partner say "I am glad I found you". Re-create your magical moments or express your love with our extensive Valentine gifts that you've never given before to your partner. Ideal presents for love and longing count the names of personalized lamps, paperweight, mugs, cakes, flower bouquets, and chocolates.
Just In Love: Has she/he just confessed their heart's deepest desire to you? Make your partner feel glad about their presence in your life by taking them completely by surprise. It is in the beginning moments of a relationship that makes a person hold ground for more. Surprise them with sweet treats, flowery bouquets and quirky Valentine gifts that will make them smile wide.
Long Distance Relationship: There are a lot of moments in every relationship where timing and locations matter a lot! We take care of both! Nothing can be compared to the feeling of unpacking Valentine gifts especially when they come from a far-off land. Create these special moments this February that you both will cherish forever.
Cheesy, Cute Love: Do you both imitate each other all the time and quarrel over pity issues? Does she irritate you with her long texts but your heart still beats for her? Does he never reach on time but you still wait for long hours despite being made. Make surprises happen any time of the day to lighten them up with smiles or even to make up for your faults.
Breaks Up a Lot: Did you break up with your partner for the nth time? And deep in your heart you know, they are all for love and nothing else! Make those small fights a memory to laugh off with gifts from us. It's the little things that matter in life and it's the big gifts that make it worth celebrating.
Health, happiness and prosperity count as three heartfelt wishes. And, The Gift? No, not just one! Hug your loved ones with our Valentine Gifts packed with flowers, chocolates, teddy, and cakes. Create memories to live and re-live with us. Remind them of your thoughts that are as beautiful as our gifts by using our expert advice and all-pervasive delivery services.
#ExpressYourLove #Valentine2018 #Love&Romance