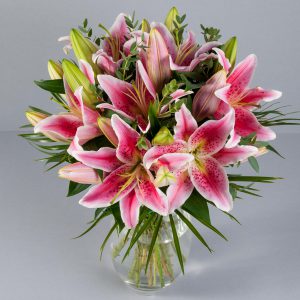 An ancient symbol of purity, Lilies have an intoxicating fragrance that gives it a celebratory edge. With the advent of the merry month of May, the most gorgeous flower that blooms are Lilies. Their delicate fragrance and classy beauty is the reason why they have been termed as the official flower for May.
The most sought after flower arrangements for gifting purpose has been stargazer lilies. Other than bouquets, lily bulbs and potted lilies are also a popular choice for gifting. For growing lilies, there are some pointers that are to be kept in mind. Some of them are:
Lilies have the ability to grow in containers as well as outdoors.
They require a well-drained soil for healthy growth.
The best place to grow them is a place that provides direct sun in morning and partial shade during afternoon.
Since they require soil that is moist, putting organic mulch is the best option. The mulch will not only conserve the moisture but will also keep the bulbs from becoming too hot.
And when you are gifted with lily bouquets and you aren't sure what to do with them. The following pointers will help increase the life of your lilies:
The first and foremost action to do re-cut the stems at an angle of 45-degrees. Thus improving the ability to soak water and keeping them fresh.
Contrary to the potted lilies, the cut lilies do not enjoy sunlight. This leads to premature wilting. Keeping them in a cool place will help them stay fresh for long.
Although pollen are the most beautiful centerpiece to the lilies, keeping them in case of cut lilies can decrease their life span. The pollen starts eating the flowers and removing them is the best way to increase the life span. It is important that the pollen does not touch the flower even in the process of removal.
For every birthday or anniversary or just a way to show your love, lilies can be a dream come true. For the procrastinators who cannot complete the process of growing, you can always buy bouquets and surprise your loved ones!