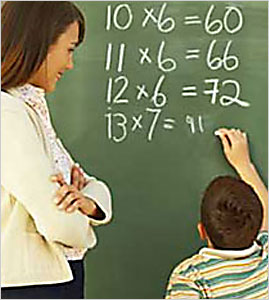 How many of you got scolded by your teachers during your school days? Almost each one of you, right? I am no exception to it either. Though I have been a sincere student throughout my school life, still I managed to attract my teachers' scoldings and punishments, every now and then. Most of the times, those punishments did not bother me much, until and unless they came from my favorite teacher.
She was a real gem, a person whom I can look upon everytime, when I needed support, guidance and inspiration. My liking for her grew even more, when she soothed me with her soft words for failing in Mathematics subject, which she used to teach me. When my parents did not understand me, then she was there to keep me going. With her guidance and support, I excelled in all my endeavors.
I miss those scoldings, extra care and understanding. Even now after so many years of passing out from my school, I send her Teacher's Day presents, because for me she was, is and will always be my favorite teacher. Do you also have teachers, who inspired you and changed your life? Have you thought enough what to present them on this Teacher's Day? Don't worry! You can send your gratitude to your favorite teachers through Ferns N Petals, with just a click. From flowers to gift hampers, you can choose from a wide range of hand-selected gifting options.
'Teachers Guide Us To Be Us'