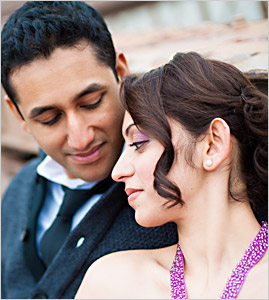 Since the day I got to know about 'Valentine Day', I started dreaming about my first.
Year on year, I saw people celebrating the day with so much enthusiasm that made me jealous of them. From 14 to 16 and then 25 years, I just kept dreaming about the so-called lovers' day but could not be able to celebrate it because of the simple reason that I never fell in love.
It was like I waited my whole life to fell in love but could not find that one guy. When my parents asked me to do an arrange marriage, I seriously had no choice. I got married to a very simple and sweet person, whom I adored but was not sure whether I loved him or not.
Months passed and I was kind of satisfied with my marriage. One day my husband asked me what do I want for coming Valentine Day. Don't know why I lied to him and said 'I don't believe in such occasions'.
On 14 Feb morning, I woke up with a sound of a balloon bursting. Upon opening up my eyes, I realized that the entire room was full of pink and white balloons, but my husband was nowhere. When I entered my living room, I saw that my breakfast was already prepared and set on the centre table, on the bed of roses. Everything was so unexpected and I was happy, I really was.
In the evening, I received a text from my husband inviting me to one of the posh restaurants in the town, by wearing a dress which he secretly bought for me for this day. After one hour, a doorbell rang and I found a chauffeur-driven car for me. My excitement was at its peak. I picked a nice blazer for him on my way to restaurant. When I reached there, I was accompanied inside by one of the staff members and by that time I was dying to see him.
There he was, dressed in black suit, holding a red rose in his hand. I almost ran towards him and hugged him tight. We both cut a valentine cake together after dinner and finally he gifted me a bracelet with our initials embedded on it and then he said 'I Love You. Will you be my Valentine forever?'
This Valentine Day, you can also plan a sweet and romantic surprise for your lover as my hubby did for me. And when you have Ferns N Petals at your service, you don't need to think more about ideas and gifts.
Just show them what a gem they are in your life through a gift, the gift which says it all.