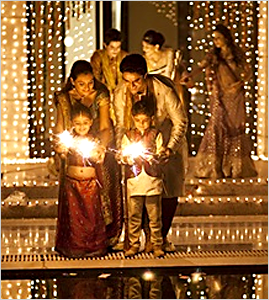 Deepavali is one of the festivals which is loved by one and all, be it a five years old kid or fifty years old adult.
I still remember the Deepavali time, when I was a kid. Out of all festivals, it was my favorite. Not only because I used to burn crackers, but the entire atmosphere was filled with joy which could not be matched up with any other time. Our festival mostly started one month back, when my mom and dad started with the shopping of new clothes, decoration stuff and gifts for relatives and friends.
Back then, people used to start exchanging gifts, with their relatives, friends, and neighbours, much before the festival. The markets were full of hustle-bustle, houses were decorated with colored paper ribbons, glittering lights, and beautiful rangoli. Everything used to be so joyous and captivating that those who never celebrated it earlier, could not resist them from enjoying it too.
I used to wake up early on the Deepavali morning, just because I did not want to waste a single minute of that day. After bathing, I roam all over the locality with crackers in one my hand and matchbox in other, along with my friends. In the evening, all of us wore new clothes and worshipped the god and goddesses. Afterwards, we started with burning crackers, while our mother cooked tasty dishes. For me that used to be the most enjoyable time of the year. Wasn't that for you as well?
Years have passed but our ways of celebrating this festival haven't changed, they have just become a bit modernised. Now, people send Deepavali gifts online, which saves their time and gives them unlimited choices. If you haven't tried it out yet, then you should definitely do it this year, through Ferns N Petals, to wish everyone a 'Happy Giftful Deepavali'.