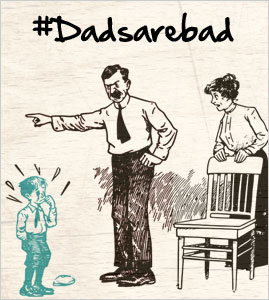 How many of you have been scolded by your dad for not listening to your mom? I guess, almost everyone. But, why? It is not mandatory to listen and oblige with each and everything the moms say. Fathers have a bad habit of interfering between mom and kids whenever they argue. As per dads, we should always respect our mothers and never argue with them, because of the universal fact that moms are always right.
Our fathers have helped us make a strong and loving bond with our mothers, without caring for their own relationships with us. No mother can think of her child's bad because she is the one who has felt you for the first time when no-one could. She has spent her days and nights to take care of you. Even dad knows that he cannot take place of a mother in your life. Fathers scolded us to teach us to value the sacrifices and unconditional love of our mothers. So, was that wrong? If fathers would not have scolded us for arguing with mother, then who else would have?
This Father's Day, show your dad that how his scoldings paved the path to your happy and prosperous life through a unique and thoughtful gift. With so many gifting ideas available on internet these days, choosing a Father's Day gift is not a strenuous task. Still, if you want to make it an unforgettable occasion for your dad, then log on to FNP and see how your ideas come alive.
Believe It…They Are Just Dads And Not Bad!