The much awaited Valentine's week is nearing and so is the auspicious Promise Day. Lovers all over the world promise to love and care for each other always on this day. But this day is not only for couples, Friends could exchange the promise of friendship forever, you could promise your family that you will always love and support them through thick and thin. Couple your promises with a beautiful gift which will make your promise memorable.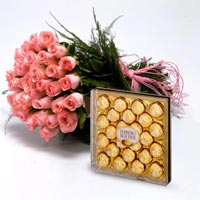 Make it more promising with a beautiful gift from Ferns and Petals. Since have online presence you don't really have to do a lot, just log on to their website which is very user friendly and place your order without budging an inch. Since the sweetness of chocolates will get over a day before Promise Day how about ordering a beautiful bouquet of fresh flowers online from Ferns and Petals. Nothing works like a personalized pillow or a coffee mug with a picture of the good times spent together or a photo frame, wall clocks from Ferns and Petals will always remind them of the promise you had made. How about a beautiful gift hamper from ferns and Petals with chocolates, wine, teddy bears and other things that they love.
You could never go wrong with a yummy cake which both of you can enjoy together. Ferns and Petals have a wide range of fresh flowers and gifts which fit your budget, they have an extensive web catalogue to choose from. They could also deliver your gift to your loved one with your note of promise and no shipping charges. Distance could no longer be your excuse for not send flowers to loved one on Promise Day because they have an extensive network throughout the world and delivering flowers in a different city or country is possible. They have different categories of gift for different days like Mother's day, Valentine's Day and other such special days and every relationship which has made choosing a gift very easy. So what are you waiting for? Place your orders now and don't forget to keep the promises you make, these gifts will never let them forget your promise!