When it comes to boss it has to be perfect. We know the boss is always right and impressing him is quite a hard task to do especially when you have the most suborned ones. Every employee craves to impress his or her boss but you never know what the right gift to offer is. It can't get any better when you have a lovely day on which you get an appreciation from your seniors, so here are we at ferns and petals to help you make that game changing impact on your boss. The best you can offer is all we have for your boss, all set and ready to be delivered anywhere anytime you want within hours you order it.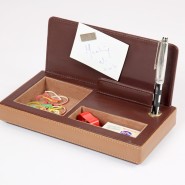 The best part is that when you know how to make him or her smile you might already have a promotion coming through. So why not make it happen as soon as possible, then grab your phone and call us at +919212422000 or quickly log on to corporate.fnp.com and place your order. Choose among the best and the most unique collection of every possible gift which can be offered with a token of respect and gratitude.
We always have the best prices to offer and even the best deals which anyone can ever get; we do have special voucher and seasonal discounts so you better hurry when you cite one. After placing your desired order the rest is assured that it will reach its destiny the right time and at the right moment leaving you and our boss with a moment to cherish. Impressing the boss can always be the quickest and the easiest when you have ferns and petals on your side.
The special time moment you can have in your career is just few clicks always, all you need to do is to contact us as soon as possible and we will make sure that your boss does get impressed by all the efforts you put in to obtain the even the slightest appreciation. Whether it may be his or her birthday or even an anniversary or even the day of promotion you can always grab your chance of getting all they ever wanted good impression on his or her mind which will definitely make an impact on your career the positive way. When you can't even think of it we can surely help you make a difference.