India is a land of cultures, traditions and food. We have different foods from different states and there are foods for specific occasions as well. Every occasion comes with some homemade recipies that people love to enjoy in their own way. Here are some recipies that are prepared during the festival of Karwa Chauth.
Gulgule/Pude
The traditional snacks of half of the North India, gulgule is supposed to be something we all have grown up eating and still relish on even regular days as well. These gulgule hold special significance in Karwa Chauth because these are offered in the pooja.
INGREDIENTS:
1 cup Wheat Flour
1/2 cup Sugar (or salt to taste if you want to prepare 'namkeen gulgule')
Pinch of Black Pepper powder
1 tbsp Saunf
Oil to fry
1/2 cup Water
1/4 cup Milk
METHOD:
Mix the wheat flour with sugar (or salt to taste if you want to prepare 'namkeen gulgule'), saunf, pepper powder, milk and water to make a flowing batter. Your batter should have the consistency as that for the pakoras.
Keep the batter aside for about 1 hour – this makes the gulgule softer.
Heat oil for frying.
Take a tablespoon full of smooth batter and let it flow into pan. Allow it to take the shape.
Deep fry until brown on both sides. Fry 4-5 gulgule at the same time to save time.
Take them out of the oil and soak them on a paper towel.
Gulgulas are ready. These taste great with kheer especially after that long fast!
Sooji Halwa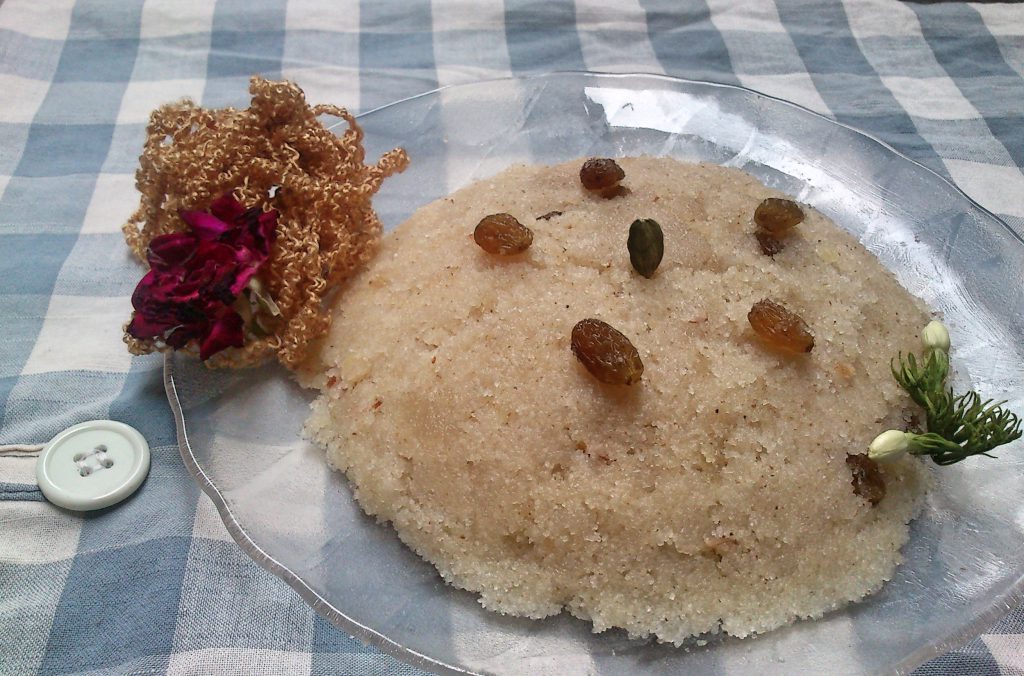 Sooji halwa is one of the basic sweet dishes in the Indian cuisine. It is easy to prepare and delicious to taste.
INGREDIENTS:
1 Cup – Sooji/Semolina/Rawa
1/2 Cup – Sugar
1 3/4 Cups – Water
2 tbsp – Ghee
1/2 tbsp – Fresh Crushed Cardamom
1/2 tbsp – Raisins/Kismiss
10 -12 Halved Cashew nuts
METHOD:
In a pan, heat ghee and roast the cashews and raisins until they get golden brown. Keep them aside after that.
Roast sooji at low-medium flame until you get an aroma and the sooji gets light brown. Keep stirring while roasting, to avoid it getting burnt.
Meanwhile, boil water in a pot.
Add water and sugar to sooji and mix together, keep stirring until sugar dissolves and water is absorbed fully. Let the sooji get cooked properly.
Now add crushed cardamom powder, raisins, cashews and mix well, cook for 1-2 minutes or until halwa becomes completely dry. Put the flame off.
Serve hot, warm or even at room temperature.
Puri Bhaji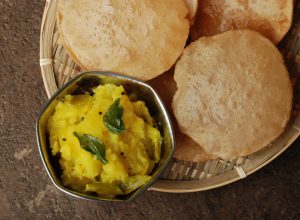 Puri bhaji is an integral part of the north Indian cuisine. You will find the presence of poori bhaji in every festive food.
INGREDIENTS:
For Puri-
2 cups of wheat flour
2 tbsp curd
Water to knead dough
Salt to taste
Oil to deep fry
For Aloo Bhaji-
4 Potatoes (boiled)
1 Chopped onion
2 Chopped green chillies
1/2 tbsp Ginger finely chopped
1/2 tbsp Crushed garlic
3-4 Pinches turmeric powder
1/2 tbsp Urad dal
5 – 6 Curry leaves
1 tbsp Lemon juice
1 tbsp Oil
1 tbsp Coriander finely chopped
1/2 tbsp Cumin seeds
1/2 tbsp Mustard seeds
Method:
For Pooris :
Mix curd in the flour and add salt.
Knead soft pliable dough with water.
Keep aside for 15 minutes. Divide dough into 10-12 parts, shape into balls.
Roll each into 4 rounds with the help of some oil or dough.
Heat oil in a deep pan, fry on both sides till light brown.
Drain the oil on a kitchen paper. Serve hot with bhaji.
For Aloo Bhaji :
Heat oil in a pan, put the mustard seeds and cumin seeds and allow it to splutter.
Add curry leaves, urad dal and chopped onions and sauté till onions becomes tender.
Add the ginger, garlic, chopped green chillies and fry it for a minute.
Peel the potatoes and crush them with hand and add to the mixture.
Add salt, turmeric and lemon juice. And let it cook for 1 – 2 minutes.
Transfer to a bowl, garnish with chopped coriander leaves.
Your puri bhaji is ready to served.
Methi Paratha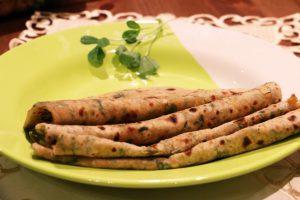 Well, this scrumptious bread is especially prepared on the auspicious day of Karwa Chauth. Nicely cooked on a tava, you can have it with your evening tea as well.
INGREDIENTS
2 Big Bunches Methi (Fenugreek leaves)
2 Cups Whole Wheat flour
1 Cup Rice flour
2tbsp Oil
Salt to taste
Butter or Ghee (Clarified Butter) for Roasting
For the Masala Methi Paratha : 2 small Onions, 3 – 4 pods Garlic, 1 inch Ginger piece, 3 – 4 Green Chilies, 2tbsp Coriander leaves, 1 tbsp Amchur (Dry Mango) Powder
METHOD
Wash and chop methi leaves.
Grind the ingredients for the masala to a paste.
Heat oil in a kadai (pan) and stir-fry the masala paste until all the moisture evaporates.
Add methi and salt and let it cook for some time.
Remove from heat and add the wheat flour and rice flour. Mix well to form a dough.
Divide it into balls. Roll out the balls on a floured surface and roast on a hot tava (griddle) with little ghee or butter, turning on both sides.
Serve hot with curd and pickle or chutney.
Click Here to Know Karwa Chauth Puja Procedure and Guidelines