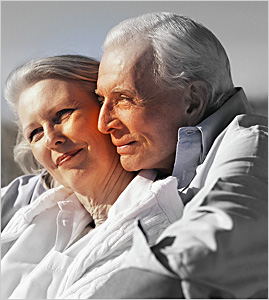 Yesterday, I met an old lady in the park while jogging early morning. Wearing an elegantly old and loose sweater, she was brisk walking barefeet over the slightly wet green grass. She must be around 70 years old and still seemed so healthy and fit. But, there was something missing in her eyes and smile and that was what tempted me to sit beside her on the bench and talk to her.
Our conversation started with a simple 'hi, hello' and introductions and it took an interesting turn when I praised her for her sweater. While she thanked me for my appreciating words, I felt that there is something more to it. Before I could speak anything, she simply said that it belongs to her late husband and it was his favorite.
Being married for more than 40 years, her husband died only two years back. Theirs was a love-cum-arranged marriage and as far as she remembered they have been in love throughout their lives. She told me that they met in her cousin's marriage for the first time and fallen in love with each other in those three days itself.
At that time, there were no phones to talk and no internet to chat and therefore they used to write letters by the names of their friends so that no-one could find out. They used to meet once or twice in every two-three months and for them that used to be the best time of their relationship. They never went to a restaurant or movie together, like people generally date these days. They also had some issues while convincing their parents for marrying each other but at the end everyone approved it.
My eyes filled with tears when she briefed me about her love story and life, but hers was glittering with love and composure.
Time has changed the ways people love, but not their passion and feelings. Lovers still love to receive gifts and get surprised by the love of their lives. Now that you already know one of the smallest secrets of keeping your love-life refreshing with fresh flowers bunches, start gifting now. And, for some of the interesting gifting ideas for your partner, just checkout the fabulous collection of Ferns N Petals.