We all live in a strange society where women are worshipped in temples but face a lot of suppression in their personal lives. There are lots of women around us who are not treated well by their husbands or their in-laws. Here is a story of a mother who showed utmost courage and determination when her life was turned upside down by the person whom she loved to the moon and back. Her faith was broken and hopes shattered. She faced the mountains of problems all alone without breaking in front of the situations and stood like a shield to her three children.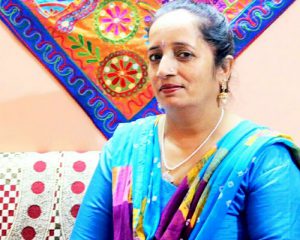 Shocking truth revealed
Madhu's married life was going smoothly until she discovered an extra-marital affair of her husband after nine long years of their fruitful marriage. It was the most heart breaking moment for any wife and a mother of three small children. There were lots of arguments and family disputes but her husband did not heed to her concern and left his wife and kids in order to start a new life with the other woman. Her children were in their tender ages – two of them were five years old; the third one was just one year old when they all were abandoned by their father.
It was definitely a challenging situation for Madhu, who had to take up the responsibility of raising three children on her own. Her in-laws also did not oppose the activity of their son and supported him in this wrongdoing. However, she did not lose courage and did not accept any help from her husband nor her in-laws. She started this difficult journey on her own without any moral and financial support from anyone. She handled the dual responsibility of both mother and father. She began to work at Portea Medical (caring old age women) as a Nurse.
The brave heart mother provided all the love, affection, financial and mental support to her children who were deprived of father's love. However, Madhu was an extraordinary mother who fulfilled all her duties. As years passed by, her mother and father-in-law also started supporting Madhu and spent their last days of life along with her. Now the mother of three children had an added responsibility of looking after her old in-laws as well. She did not run from her responsibilities and offered all the love, care and attention to her ageing in-laws despite of financial hardships. It's been 17 years since her husband left them to have a family with another woman with whom he has two kids of age 16 and 8 years.
Her Motherhood gave her strength
'Although I was shattered and broken by the incident but it was my children who gave me the purpose of life. There can't be any bigger hope than her children for any mother. Therefore, I had no option but to accept the fate and fight with situations, said Madhu. Her elder daughter Harsha was very much inspired by the indomitable strength of her mother. The family fulfilled all financial responsibilities for Harsh's wedding without taking any financial assistance from the father. The inspiring mother continues to work in Portea Medical centre as a nurse. Her son Harsh is currently working in Genpact while her youngest daughter, Varsha is in the final years of the college.
The life of Madhu has been a tough journey of an extraordinary struggle, courage and determination. Her children also express their debt and gratitude towards their mother and say she is the saviour of their life. She is the backbone of the family and a strong mother who crafted the beautiful future of her three children. A resilient mother like Madhu deserves a big salute and respect. She is indeed an inspiration for millions of mothers.