People in thus midst of profit making in earning money tend to exploit the customers. And even the customers ignore the cons and are least bothered. In such a situation what suffers is the nature we live in. It goes on being the same there will be nothing left as resources and everything will be finished fulfilling the greed of man. With the same idea in mind we, at Ferns N Petals are here with our brand new collection of Eco friendly gifts. You can now make your near and dear ones feel special and that too not at the cost of nature's deterioration.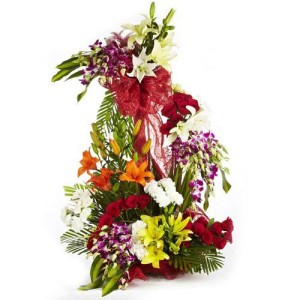 We, at Ferns N Petals are here with our specialized flower variety in different arrangements is it bunches or bouquets and many more to add to the innovative side of your gift and make every delivery unique in its own kind. Â We have with us different sort of plants to keep in the balcony and live for a long time. How amazing it is to receive your lucky plant delivery right at your doorstep wishing loads of luck and prosperity to fall on your life in just a call away. We also have idols of gods and goddesses, Buddha idols and other spiritual gifts. No matter what the occasion is we have the right gift and for the right person, so you can be the most special for someone at that very moment and always remember we are here to do it so.
So what are you waiting for?
The process to reach is a simply a cake walk. You can ring us at the nearest Ferns N Petals outlet and get in touch with our efficient team of workers ready to help you with anything regarding the delivery. You can also place your orders at the same. Or you reach us through our official website that is www.fnp.com and view our entire collection of items put up for sale. The site also gives you the option to customize your own bouquet so that you are 100% satisfied with what you receive. We also have a lot of discounts and exciting offers for this festive season. Contact us at the earliest and spread happiness this New Year. Here we at Ferns N Petals have your convenience in mind always so it's just you and your loved one that make a difference for us.