Our dear customers who have their fathers,brothers,uncles,boyfriends or husbands birthday coming on this new year have an additional reason to celebrate this birthday with great zeal because its two celebrations together.. To make his birthday very different from others you just have to follow one simple step, just visit the nearest store on Ferns N Petals and experience the difference. We have thousands of gifts to make his day special and very different and more wonderful from other birthday celebrations.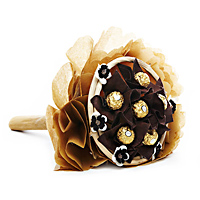 We have gift items like leather belts and wallets and other gents accessories which a wife can easily gift her husband and make him happy even if he is tensed or worried. He might have thought that you have forgotten his birthday and that's why not wishing them but as everyone craves to be the first one to wish you be the last one and give him surprise of his lifetime.
Gone are the days when you had time to throw parties or go out to dine why not keep it the short and simple way this time and surprise him rather than expecting surprises. You can visit our stores in your city or even look for us online and enjoy the luxury provided by us by becoming a member of Ferns N Petals and receiving discounts even on fresh arrivals. Our card will help you gain bonus points and which you can use anytime at any store of Ferns N Petals all over the world. Each time you shop with us you gain a special bonus points so start with a New Year wonderful gift for the love of your life on his birthday. Gift him and remind him how much you love and miss him and it's just a special gesture from your side to show how much you care for him and what he means for you.
What adds to the celebration is that it's New Year as well so you can organise a bash as well, Keep a theme and decide your gift on that theme. Wow don't you think it's something really different and amazing and if your sweetheart is away from you we assure you that he will receive his gift on time . Birthdays and new year's is not a daily affair so try making the best of it and spread smile and laughter on your beloved face by combining both these events and throwing a grand party!!