As its Christmas and everyone believes that Santa gives gifts so why not you become someone's Santa and instead of gifting gifts you present them with an amazing bouquet.Do you remember the last you talked to your loved ones? Do you remember the last time you wished him/her on any festival? Then now is the time to do as from now onwards we at Ferns N Petals are introducing a complete new range of gifts, flowers and chocolates especially for charismas on this happy occasion come ahead and visit our nearest stores right away if you cannot find us near your location or in your city then you can definitely visit our website.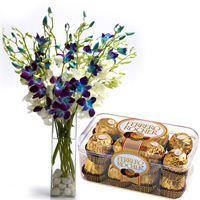 We have specially ordered China roses for making bouquets for Christmas as these bouquets last for longer durations and have a very strong fragrance which can fill the ambiance with fresh smell.
We have also introduced a wide range of combos which are low on price and high on quality as well as quantity. The best part of ordering us is that all deliveries are door to door deliveries and a Ferns N Petals employee personally caters the need of his/her customers. We always make deliveries within the allotted time as we follow the policy of making our customers always happy. Along with a bouquet of flowers we deliver a complimentary chocolate cake.
We also have especially prepared special range of cakes for customers who are willing to fill their loved ones life with exciting surprises. We came up with this thought because we strongly feel that in this busy sphere we have somewhere forgotten to bless our loved ones even in their slightest of happiness, so this would be a nice platform to wish them and form a better connect although they live very far from us. The packaging is done very properly to keep the product safe.
We accept both kinds of payment, cash as well as credit cards .the sender receives a message as soon as the courier is delivered which saves time of the customer as well as a sender .We deliver in all parts of the world as we have many stores in almost all the cities of the world to form a wider range of network. Gifting flowers is the best way to show someone you care or you remember them as its expressed better and not always necessary that face to face interactions can bridge gaps as we change the whole concept of sharing and caring as for us boundaries are only in terms geographical areas and not in terms of hearts!!