For many it could be a cake for the opening and for many it could be crackers. Drinks and decorations, friends and relative friend and enemas all get together to welcome the New Year. When the calendar's year count increment and people calibrate and pray with new hopes for the coming year. Swinging fireballs to bursting crackers everything remarks the opening of the New Year and new hopes. For many it's a resolution which odds a spark to this celebration and joy. Forgetting the past and with new hope and lot's of enthusiasm.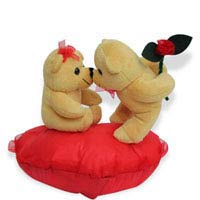 New Year brings everyone closer. We at ferns and petals at this New Year will make sure that it may be you're happiest with a vide variety of gift vouchers and a plenty of discounts on some of the best materials. The prices you won't believe and the happiness you won't forget.
Our motto may be the true happiness but it varies with the occasion, no matter it may also be a time of condolence, we will always be here to provide the right feeling at that very moment. At these are many things to laugh on, broken resolution of last year or stupidity of a far of uncle or the fake story aunt we have gifts for all. FNP is the most unique in their products may it be a toy for the little one or the sweets one for the naughtiest ones or even the cutest teddy the little girls ever wanted. As established with a most kind of the mottos to spread tremendous amount of joy, we try our best to keep up our principles.
So why stop now as you always know that happiness will be rushing towards you within hours and reaching to you and your beloved one at the vary right time and the vary right occasion. So just log us on to ww.fnp.com or give us a call right away on +91 92124 22000. We will be waiting for your orders to make them happen at the earliest and making sure that you end up with those smiles full's of happiness on this New Year. Having another year full of euphoria is just around the corner.