Kids are the world; they are everything to their parents. The sweet little girls are daddy's darling daughters and the cute boys are the heroes of their mommy's! Everything about kids is simply amazing. The way they express their love to you, the way they get their wishes fulfilled, the way they care for you and sometimes, the way they scold you! They can melt down your anger in minutes and can amuse you in the hardest of your time. Kids are the word, kids are everything! A life cannot persist if there are no kids in the house.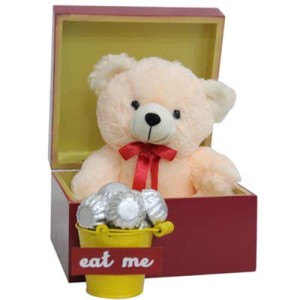 They need to know that they are special and are cared for. A birthday gifts for kid is his/her most special day and all children have different dreams for their birthday. They want them to be treated as kings and queens on their birthdays. You can celebrate your lovely kid's birthday with Ferns N Petals and surprize them in every way possible. All you need to do is visit the nearest store of Ferns N Petals and order for all the delicacies loved by your kid and make his day! You can even visit our website www.fernsnpetals.com and order online for anything you desire. No doubt we love our kids but in these busy lives, we may not be able to express it properly, and your kids deserve to know that they mean the world to you so this is the best way to express your love and make them smile. Give them what they love with sweet messages written on them and see they will love you back even more. Ferns N Petals is always there at your doorstep to help you with your feelings and emotions. Be it any occasion or be it any one from your life, you can make them feel special with us. So hurry, and express your love to your loving kids!
Ferns N Petals is always there to help you out with your feelings and sentiments. You have to show your feelings and express yourself and make people know that they are important. Be it any occasion or no occasion at all, you should always express your love and concern for others.Ferns N Petals is always at your doorstep to help you celebrate the most special moments of your life. We have all types of birthday cakes for your loving friends and family. It's on these special days when we actually take out time from our busy lives and express ourselves to our friends and show them how much we care and love them. So why wait, when we can do so much with so little efforts!