The relation of a husband and wife is the purest of the relations. They not only live with each other but also for each other. They abide by the vows taken by them during their wedding and promise to love and support each other throughout their lives. Be it a love marriage or an arranged marriage, the care, the affection, the love is always there. Every couple might not show it but they do deep inside! A husband and wife work together, they are like one bond which can never be separated.
So why not do something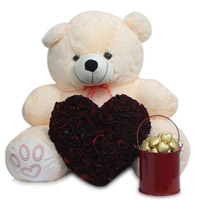 really cute and sweet to bring a smile on your lovely wife's face? Why not gift them something which will make them cuddle with it, play with it and will never leave their side. Nothing is better than the soft toys!! Those big teddy bears who are more of your friends then merely toys. You can talk to them, play with them and even hug them when you feel low. They never complain nor demand, they are always there by your side when you need someone to be there. And more of anything, girls love soft toys, even guys may like them but they will never accept it. Ferns N Petals is the store from where you will get amazing soft toys which you can gift to your darling girls to make them feel loved. All you need to do is visit the nearest store of Ferns N Petals and order for the best soft toy or you can even choose the more convenient option i.e the online stores of Ferns N Petals from where you can choose the toy you want from the wide variety of soft toys available and the order will be delivered to the given address in no time.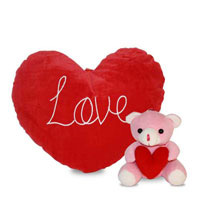 You can also visit our website www.fnp.com and order from the wide variety of gift articles. Love has to be appreciated and cared for. You can give delicious cakes to your beloved and make their day. All you need to do is visit the nearest outlet of Ferns N Petals and order for your favourite flavoured cake and the cake will be delivered to the given address in no time. Place an order and bring a sweet smile on your husband's face within a flick of a second. So hurry!