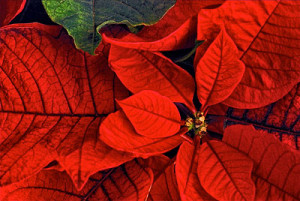 Flowers accompany us at every occasion of live. From birth to death, it is a loyal companion. Flowers also bring a positive vibe with an aromatic effect to the surrounding. Now since winter has hit the town, Embellish your house this winter with the red winter star or poinsettia plant in red fiber pot and make your atmosphere vivacious.
It is known for its striking red displays during winters, especially at Christmas times. It is usually used as a part of Christmas decorations because of its fiery red festive color. In the language of flowers, poinsettia is considered as the symbolism of success and good cheer and is expected to bring wishes of mirth and merriment in the house. Poinsettias are majorly available in red but are also found in orange, pale green, cream, pink, white or marbled shades.
If we go by the ancient mythology, poinsettias have an entire trail of legends that are believed in the different parts of the world.
According to a Mexican legend, poinsettia is a holy flower. As the legend goes it is said that a child with no means for having any lavish gift assembled a bunch of weeds from the side of the road and placed it at a Church altar on Christmas Eve. As the congregation began, the church witnessed a miracle take place. The weed placed by the child turned into a brilliant red and green flower thus bringing Poinsettia to life.
The plant derived its name from the botanist and the first ambassador of Mexico in United Sates Joel Roberts Poinsett who introduced the flower in 1852.
According to the ancient Aztec legend, the flower is symbolic of purity and called it Poinsettia Cuetlaxochitl which means "flower with leather petals".
Poinsettias also known as the Christmas Star are available in over 100 varieties globally. The bright petals of the plant are basically a bunch of upper leaves of the plant also known as bracts. The green leaves are oval and lobed with pointed tip with prominent lighter veins. The main flowers of poinsettia are small, yellow or green, grown inconspicuously in the center of each leaf bunch.
Ferns n Petals have an entire nursery of bright and lovely poinsettias for their customer. Get your pot of lobsters flower and decorate your house with its bright shades. But just bringing a healthy plant at house will not make it grow well. It needs huge amount of personal attention and care for the plant to grow. Here are few tips that you can use to take care of your poinsettia.
Always place your poinsettia in the bright and naturally lit room. Do remember that it should not be placed in direct sunlight. Avoid keeping the plant at a place where it will continuously receive hot or cold draughts. Keep plants out of the reach of the children and pets. Fertilize your plant after the blooming season is over and trim the stems to 6 inches as many laterals will start breaking naturally. Water moderately from time to time when the soil dries up.
With these tips you can keep your plant healthy and long lasting. FnP has an entire range of Poinsettia available. All you need to do is place your order with ferns n petals and order your pot of winter star and add sparkle to your garden and house. A huge of variety of pots are also available.
So, enjoy your Christmas with the star of the Season elegantly potted in your house.