"A woman of substance has the courage to overcome tough times in her life and pursue her goals because she stands up for what she believes in and never gives up on her values and virtues"
Celebrating International Women's Day just for the sake of it should not be the right attitude! Understanding women empowerment is really a simple thing. All you need to do is – liberate the women. Don't tell them what to do and what not to dream, because you will never say that to the men in your life!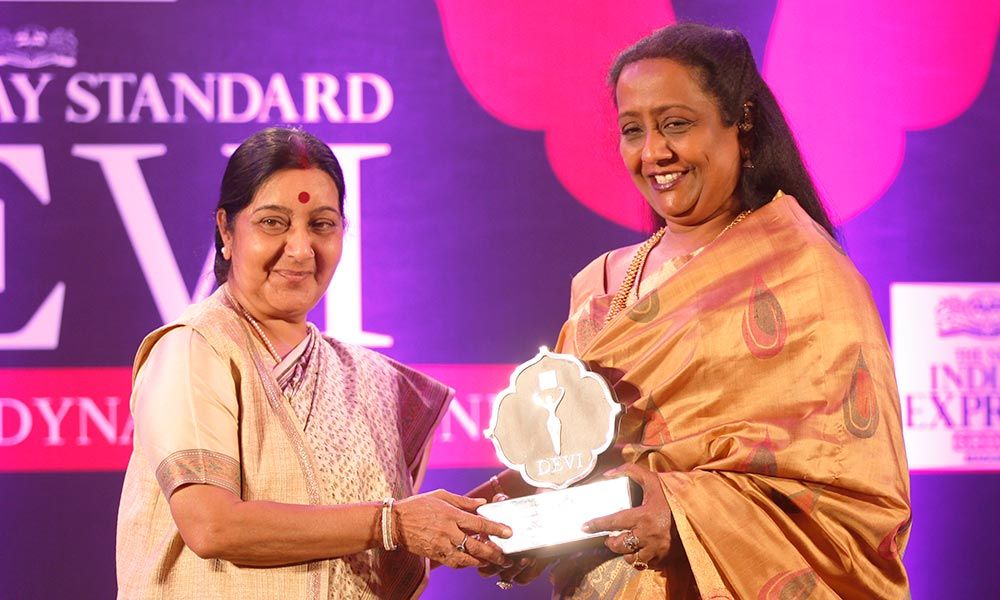 In this wake, the story of Patricia Narayan may inspire millions. She is someone who truly defines the above-mentioned quote. Patricia Narayan was the winner of the 2010 FICCI Women Entrepreneur of the Year award. She defied all challenges and surely emerged a winner. She was helpless at a point like anyone of us could have been while battling with a drug addict husband. A failed marriage due to an abusive partner and later moving out of it and then nurturing two kids alone didn't stop her from becoming someone out of the million. Why? Because she dared to dream and had the courage to make that dream a reality. She founded a chain of restaurants and is an exemplary woman in today's date.
But as you all know Rome was not built in a day, she also had to walk the thorny paths. Read her life story that is segregated into 7 chapters.
1st Chapter of Struggle:
Like any other young woman, she also dreamt of a Mr. Right who would hold her hand to walk the life together. She forgot that she belongs to a very conservative Christian family and gave her heart to someone belonging to a Hindu Brahmin family. The man was 13 years older to her but as they say, love is blind. They knew that their family would be an obstacle in their way and therefore, they decided to secretly marry in the registrar's office. It was initially decided that after she completes her college education, she would break this news of marriage to her family. But after three months of marriage, her husband was pressurizing her immensely. So, she had to spill the beans and accept the harsh words of her family.
Now, our societal set up doesn't approve of a marriage that is only done in papers, they need a ritualistic one! They married again in Purasaiwalkam Church and started living life. Both their families were still not impressed as it was an anti-culture step!
2nd Chapter of Struggle:
What do you think? Things went all hunky dory after that? No, not at all….Like in the movies, the real story will unfold page by page. Unaccepted by families, they moved into a rented apartment in Anna Nagar, Chennai. She slowly established that her husband has no intentions of going out and earning bread and butter. All he can do is consume drugs and alcohol and at the best beat up his wife. Facing all these adversities, she gave birth to two kids over a period of time. A point came when there was no roof, no food, and no money at all. Her father never forgave her for taking this drastic step in life but gave refuge to his daughter, son-in-law, and his grandchildren.
3rd Chapter of Struggle:
She borrowed some 100 rupees from her mom and started making pickles, squashes, and jams. Her mother took them to her office and everything that was carried used to be sold in a day. This was a boost for her. She used to invest almost all the earnings into making more squashes, jams, and pickles.
4th Chapter of Struggle:
Opportunity comes to those who have the courage to try. One of her father's friend ran a school for handicapped children. He was giving out free mobile carts to people who would employ at least two handicapped people. Patricia lapped up this opportunity. She had to train two handicapped kids how to make coffee and serve to the customers. She stalled her mobile cart at Anna Square on the Marina Beach where a crowd used to gather in the evening. In those days (1982), carts like these sold only tea and cigarettes. But this is where Patricia was different. She ran her creative head and provided the customers with fresh juice, coffee, tea, cutlets. Bhaji, cutlets, and samosa.
She sold only one cup of coffee on Day 1 and earned only 50 paisa which disheartened her. God was still taking her test. The next day saw a humungous rise as she earned INR. 600-700 from her delicacies. Patricia Narayan continued this cart business from 1982 to 2003. She struggled every day from 3 P.M. to 11 P.M. and sometimes from 5 A.M. to 9 A.M. also. That's how she was preparing for a bigger future.
5th Chapter of Struggle:
Another opportunity came to her when the Chairman of the Slum Clearance Board saw this hard working lady. He offered her to run the canteen at their office with a proper kitchen and setup. She grabbed this one too. She prepared idlis and went to the beach to serve from 5 A.M. to 9 A.M. and then went to the canteen to cook there. Then she returned to her cart and stayed there till 11 P.M. Her monthly income now turned around to be INR. 20,000 and she had hired a few employees also. Now there was another offer from Bank of Madurai canteen and she had to leave cooking for the Slum Clearance Board.
6th Chapter of Struggle:
One day out of a normal fight with her husband, she went away and boarded a bus and went till the last stop. The last stop was National Port Management Training School ran by the Central government. She went inside and met the administrator and bluffed that she heard they are looking for a caterer. She got a contract of cooking and serving to 700 students. The income of her first week was INR. 80,000 and that soon rose up to 1 lakh/week.
7th Chapter of Struggle:
In the year 1998, she got an offer of partnership in one of the units of the Sangeetha Restaurant groups. And just when life was in controlled and sorted, another tragedy shattered her completely. Her daughter Sandeepha and her son-in-law died in a road accident. Her daughter and son-in-law had just married a month ago and life stopped in one thrash! What was inhumane was the fact that the ambulance denied carrying the dead bodies. Someone came forward and carried the dead bodies in the boot of a car and when Patricia saw her little baby's body come out of a boot of a car, she broke into pieces. No mother should ever be subjected to such a view of her child. She took some time off from work to gather her sanity and confidence.
Her son took the charge now and built a restaurant in the year 2006 and named it Sandeepha. She recovered from that shock and came back to where she belonged. But she didn't forget what she lost. She bought an ambulance and kept it where her daughter faced the deadly accident – Acharapakkam. It helps victims of the road accident to be taken to the hospital whether dead or alive.
There has been no looking back since then. The lady who was beaten up by an addict husband, made a refuge in her father's home, sold one cup of coffee for 50 paisa once, and now after a long struggle of 30 years, owns a chain of 14 restaurants. She earns 2 lakh/day and has 200 employees working under her. From cycle rickshaws to luxury cars – this is a life worth a salute!
What Do We Learn from Her Story?
Never lose self-confidence.
Always remain loyal to what you know.
Struggle keeps you grounded to handle success, so, never complain when you are facing any struggle.
Never feel depressed about failure because nothing is permanent, not even success.
Pain is inexorable and that's why you should just move on.
Never compromise on quality.
One doesn't need to be highly educated to be successful. One requires a dream, ambition, focus, perseverance, and skill.
These 7 chapters and lessons are enough to fire the engine of millions of women who want to shine. 7 is often called the number of perfection. Her story is a perfect example of perfection! Share this story with others and let that dream not die.
#Internationalwomensday #PatriciaNarayan #courageneverdies #inspiringwomen