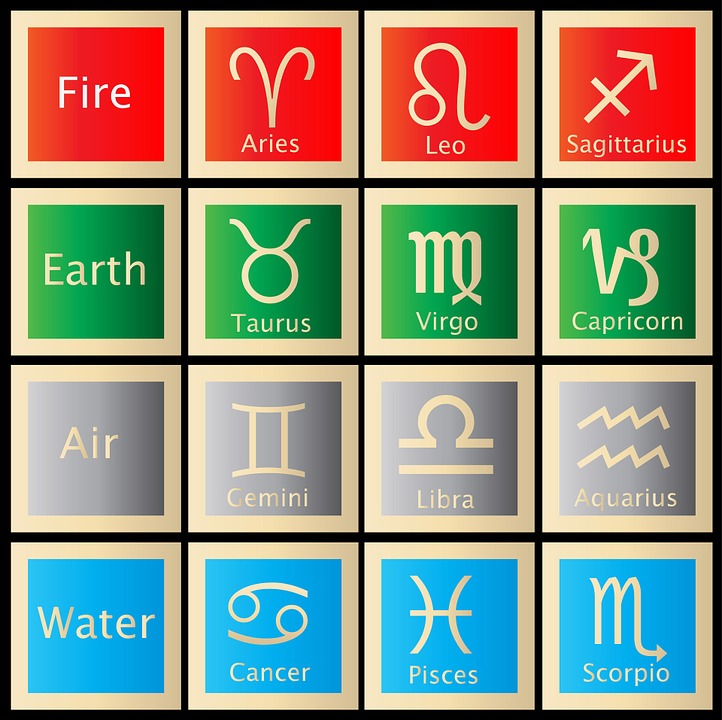 There are in all twelve signs. They are named in sequence as, Aries, Taurus, Gemini, Cancer, Leo, Virgo, Libra, Scorpio, Sagittarius, Capricorn, Aquarius and Pisces. These sign relate to four elements – Air sign, Water signs, Fire signs and Earth signs. Here, Gemini, Libra and Aquarius are Air signs. Cancer, Scorpio and Pisces are Water signs. Aries, Leo and Sagittarius are Fire signs. Taurus, Virgo and Capricorn are Earth signs. All signs have their ruling planet. Gemini and Virgo are ruled by crafty, intelligent Mercury. Sagittarius and Pisces are rules by wise, growth, expansion oriented, cohesive force Jupiter. Capricorn and Aquarius are ruled by wily hard task master Saturn. Aries and Scorpio are ruled by Aggressive Mars. Taurus and Libra are ruled by dear lovable Venus. Sun rules Leo and Cancer are ruled by Moon.
Aries
In the New Year 2017, those born in Aries zodiac sign (Rashi) will get mixed results in matters of love and relation and there'll be positivity around. Being mature would be wise instead of being sentimental. Do not use unpleasant words. Socially, there will be a mixture of friction and warmth with your siblings. You will want to spend time in entertaining your partner. Friction and sudden change of temperament will cause concern. Tours and travels with your partner will bring comfort towards the later part of the year.
Taurus
You will note pleasant and profitable situations from Jan onwards. Relation amidst relatives will be cordial and harmonious. By February, due to motion of Saturn, there will be legal matters noted amidst your relatives. Friction and stress regarding property amidst siblings will be resolved pleasantly to a large extent. You will desire to walk with your partner. Visiting an attractive place and spending time together will rejuvenate the bonds of love.  Entertaining and pampering your partner will help you to come closer to each other. Interesting discussion with your partner will be notable. Friction of the past will be healed. Hence this year will be mixed in terms of love and in relationships, as the transit indicates.  The start of the year till July will be pleasant for you. The later part of the year may not be as comfortable.
Gemini 
Avoid using harsh words, in order to achieve desirable results. In order to maintain comfortable relation with the relatives and friends, you will have to work hard. Loving relation between partners will add glow to your love life. There will be keen interest to bring about loving comfort. In short, in the 1st and 2nd quarter of the year, you can expect mixed results. The 3rd and 4th quarter of the year, from September to December, love and quality of relationships will be better and the increasing closeness between partners will be excellent.
Cancer
You will have to pay much attention to bring in peace and pamper your partner.  Using abusive and hard words will be detrimental to the relationship. Due to malefic transit impacts, your relation and love will note mixed reactions. From the 3rd quarter, after July, you will expect better results, warmth and cozy comfort.  You will want to spend time in entertainment, recreation and in traveling with your partner. In the 4th quarter in December, you will be able to enhance the pleasant feeling of love and warmth, in constant attachment and bonding. Interesting discussion and sharing will help to nurture the relation.  Due to the impact of benefic and malefic transit of planets you can expect mixed results throughout the year.
Leo
Your luck will also favor you in this period. Regarding your personal life and love relation, impact of malefic planets will bring in fluctuation and disputes. There can be sudden flaring in temper and you may have to keep you calm. Till the end of the year you can expect mixed results. By the 3rd quarter however, you can expect some favorable results.   There will be increased love, passion and comfort in relationship. You will wish to go for trips and enjoy your life in comfort with your partner.  In the final quarter of the month, there will be pleasant relation and comforting discussions.
Virgo
Here will be mixed response in matters of love and relation. Your parents and elders will be comforting and relation with them will encourage you to move further.  In an important matter, there will be agreement in your favor.  In the 4h quarter, around November, there will be mixed results with relatives. Friction and rift of the past will be pleasantly resolved. In short, the year 2017 will increase love, passion and comfort with your partner. There will be respect, and intense bonding.
Libra 
From the start of the year due to the impact of planets there will be pleasant situations, interesting discussion and comfort. You will spend time to help your partner in every possible way. Entertainment and traveling with your beloved will bring you closer. From Jan to Aug, due to the impact of malefic planets, there can be sudden disputes which can change your perspective. Longing and love will increase. You will note respect and honor in your relation. Travel and entertainment are on the cards. September onwards, there will be a comfort and auspicious turn of events.
Scorpio
There will be compassion and understanding with your loved ones. There will be efforts made for making pleasant relation and bring in mutual harmony. Friction and confusion of the past will be healed. The interpersonal relation will develop well. Due to the presence of malefic planets, there may be occasional friction and use of harsh words. These may damage the relation.
Sagittarius
2017 will be favourable to establish comforting relation with relatives and friends along with a respectable position in the society. Your domestic life will also be pleasant and encouraging. Your personal relation will progress gradually. In the period from September to December, there will be intense comfort in your love relation. Interesting discussions and entertaining matters will add to maturity of relation. Visiting interesting places will bring the two of you together. Although there will be difficulties at times, but in net results, there will be gainful situation for you.
Capricorn
you will have to put in efforts to bring in comfort and pleasant relation. There will be an opportunity for entertainment and mutual comfort. Further, the impacts of Saturn will cause friction and rift in relation. However, due to favorable transit, there will be comfort, love and passion noted in love bond. There will be the desire to pamper your lover. From January to September, will be the moment of the love affairs with passion and intensity.
Pisces
From Jan to Sept, there will be a pleasant growth of relation. There will be harmony amidst close relatives. You will get creative and wish to spend meaningful time with your partner. You will be delighted to visit different places. There will be attempts to impress and entice your partner too. From January to July this year, the intensity of the relationship will be warm. From the end of Aug, due to the impact of Rahu, there can be fluctuation in relation. There can be sudden distance and friction.