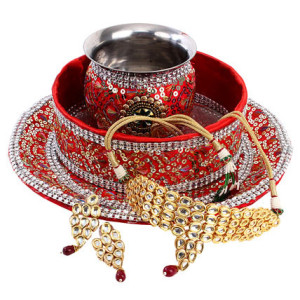 Karwa Chauth is the ritual of fasting observed by married Hindu women seeking longevity, well being and prosperity of their husbands. It is popular amongst married women in the northern and western parts of India especially Haryana, Punjab, Rajasthan, Uttar Pradesh and Gujarat.
This festival is celebrated 9 days before Diwali on 'kartik ki chauth', i.e., on the fourth day of the new moon, immediately after Dusshera, in the month of 'Karthik' (October-November).
Gifting is an integral part of Karwa Chauth. Married women exchange gifts with their husbands and in laws as well as their parents and friends. Ferns N petals strives to make your Karwa Chauth spectacular. With its impressive collection of Karwa Chauth gifts, it serves communities in India and abroad.
The Karwa Chauth gift collection is truly exclusive. Flowers dominate the collection and comprise of roses, bunch, baskets, flowers in a vase and flowers with cake, teddy, sweets, dry fruits and chocolates. Pooja thalis are central to the Karwa Chauth Pooja and come heavily embellished at Ferns N Petals. The Pooja thali, shringaar thali, sargi and baya are beautifully presented at our exclusive online portal.
Sweets, chocolates, dry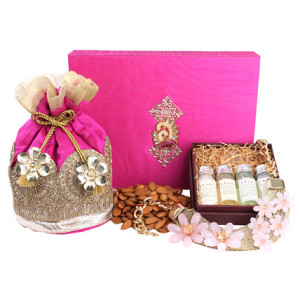 fruit and cake make up the Karwa Chauth special. If you are looking for meaningful gifts to thrill your loved ones choose from our amazing selection of gift hampers, soft toys, gourmet gifts, designer bags, cosmetics and perfumes, spa hampers, spiritual gifts, and jewelry.
Nothing creates a better impression than a personalized gift. It carries the stamp of individuality of the recipient and shows the caring of the sender. Lend your personal touch to any gift to make your loved ones feel special. Choose from a wide range of personalized photo gifts, t-shirts, bottles, lamps, mugs cushions, wall clocks, aprons, mirrors, 3D cards calendars, key chains, canvas photos, collage, caricatures etc.
Diwali is a time for decorating and renovating homes. The Laxmi Pooja which dominates the Diwali celebrations calls for the home to be cleaned and redecorated to welcome the goddess laxmi and bring wealth and prosperity. Home décor gifts form an important part of Diwali shopping. Choose from exotic divinity idols, photo frames, cushions, plants, votives, tea light holders, magnificent magazine holders, glasses, lamps, piggy banks, chests, chopping boards, hookahs, etc.
Gifts for wives and mother-in law are imaginative and stimulating. Experience gifts will surely excite your near and dear ones. They include portrait artist, star of the day experience, nail arts, Innova car, getaways, the king's feast, the great escape, water lover, the high tide and many more.
At Ferns N Petals we also have city specials to the major metropolitan cities in India. Our worldwide delivery ensures that our Karwa Chauth gifts reach distant shores in pristine condition.