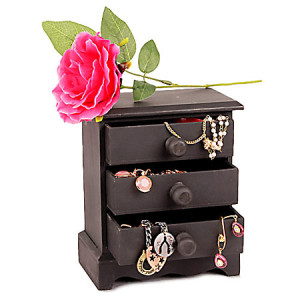 Celebrated by women in north India and certain parts of Pakistan, Karwa chauth is a festival dedicated to the safety, well being and longevity of husbands. Historically, the festival is believed to have been created by women whose husbands worked in the military forces, the festival is observed in the northern part of India. Karwa chauth gifts for wife are an integral part of the Karwa chauth celebrations.
Though the rituals and customs defer from place to place the essence of the festival remains the same. Preparations for Karwa Chauth include shopping for cosmetics, jewelry, Pooja items, henna and the decoration of the Pooja thali.
The fast commences with a sumptuous pre-dawn meal called 'Sargi', followed by a day devoid of food and water. It is also customary for fasting married women to dress up in their finest clothes in the evening for the grand Pooja, which is central to the celebrations. The moonrise marks the culmination of fasting which is when the women break their fast by drinking water. Celebrated with great pomp and circumstance, Karwa Chauth is rooted in Indian culture and tradition.
Gifting is central to any Indian festival and this is especially true of Karwa Chauth. The variety of Karwa Chauth gifts is mind boggling. Since the festival is observed by women for the well being of their husbands, gifts for wives are of paramount importance.
Karwa Chauth gifts for wives include apparel, perfumes, sweets, chocolates, hampers, flowers, home decor gifts, jewelry, cosmetic hampers, soft toys, cakes, plants, personalized gifts, spa hampers, gourmet gifts and experience gifting.
Apparel is largely made up of saris and stoles and salwar kammezes. There is a wonderful array of these available at the online store and are sure to thrill your wife on the occasion of Karwa chauth.
Karwa chauth jewelry is traditional fare as it is customary for wives to deck out in their finest jewelry for the Karwa Chauth evening Pooja. They break their fast by moonrise in all their finery. Jewelry options include tribal, ethnic and contemporary jewelry made of gold, silver, artificial and semi precious stones and beads. Giving the gift of jewelry is a classic gesture and sure to win hearts.
Cosmetic hampers or 'Shringaar" hampers are also extremely popular Karwa Chauth gifts. Married women are dressed up to the nines, on this day. These hampers include the latest shades of lipstick, kajal, nail paint, mascara, eye shadow, blush on, bindis, sparklers etc.
Flowers are a must have on Karwa chauth. Gifts of flowers include roses, flower bunches, baskets, flowers in a vase, and almost every type of flower is available from the online stores.
Cakes and chocolates make the occasion more festive. You will see the finest selection of chocolates including handmade chocolates laid out for the occasion.