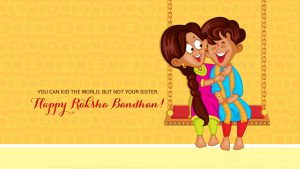 Rakshabandhan is approaching and as it march forward, all you siblings must be planning something special for your significant other. Apart from wonderful rakhi gift ideas, the message that we send along, also adds value. If you also think the same and have been pondering over it for a while, we bring several options for you to choose from.
Here are some beautiful lines for your brother/sister. Pick the one that suits you and your bitter-sweet relation. 
"You were always my best friend, looking out for me, making sure the path I traveled on was smooth. Even if I searched the world over, there cannot be a better brother than you."
—
A 5 year old asked her big brother "What is Love?" one day.He replied:" Love is when you steal my chocolate from my school pack everyday… and I still keep it in the same place. "
—
There is a little boy inside the man who is my brother …Oh, how I hated that little boy. And how I love him too.
—
I sought my soul, but my soul I could not see. I sought my God, but my God eluded me. I sought my brother and I found all three.
—
What's the good of news if you haven't a sister to share it?
—
Throughout these years… you have done so many things for me… it helps me know deep down inside… How much u care… I may not say it every day but I admire you a lot I feel richly blessed to have a brother like you.
—
A sister is one who reaches for your hand and touches your heart
—
I want to tell u, during times when we fought, my love was in different mood.
—
"It leaves a smile on my face when I think of those trifling fights we had and suddenly used to make up. The memories may fade away with passing time but the love we share will only grow."