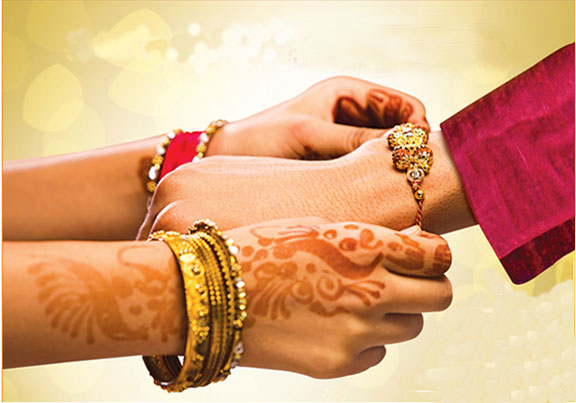 Why do I get excited to celebrate Raksha Bandhan every year? Simply because, it is my favorite Indian festival. You might be speculating why Raksha Bandhan is my favorite out of all festivals. We have Lohri, Dusshera, Holi, Diwali, Eid, then, why only Raksha Bandhan? If I define it in one sentence, it is not a festival, but a day to celebrate the bond between brothers and sisters, a day of their love-hate relationship! With a relatively short ritual of tying a rakhi on wrist of her brother, a sister prays for his long prosperous life. The brother promises affection, care and commitment to protect her and often give blessings and rakhi gifts in return to sisters. It is a day of strengthening relationships and responsibility towards sister, and that makes it different from any other occasion and my favorite.
On this day of Raksha Bandhan, I thought of jotting down my hearty emotions, thankfulness and fondness for my sister who has been the world to me. Often we give credit for our entire success to our parents, though right, but, we do fail to acknowledge the supporting role that is played by sisters in shaping our career, future and above all our life. A massive role so far of my little success has been immensely played by my sister. From giving me those verbal blasts to showering love and affections and giving me extra pocket money so that I could celebrate my birthday party with my friends like a king, my sister has done it all for me.
In my childhood, I never had realized the meaning of Raksha Bandhan in safeguarding my elder sister. But, over the years, despite being younger, I have realized this Raksha is far from what we understand literally. A bond that has an everlasting and comforting effect in times of need, a word of advice that brings a smile on their face and a sense of pleasure in us that we as brothers did something for them.
Personally, I feel sisters are the ones who take the initiative to break the ice and initiate the lost communication. I also feel that they are more close to parents. But, we are in the society where sons proudly stamp their authority of taking care of their parents where our parents would have been very well taken care of by their daughters.
This is an acknowledgment to all sisters of the world who are simply admirable, lovable and worthy of lots of their brother's love.
Wishing U All A Very Happy Raksha Bandhan!!