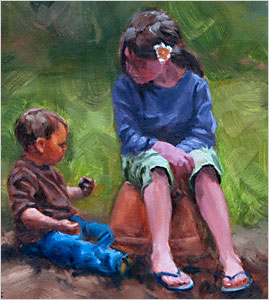 I was very happy when the first time mamma told me that my little brother or sister is soon be coming. Months passed and finally I got a little brother with whom I can play anytime I want. But, it wasn't like that. Everyone asked me to maintain some distance from my brother and gave all the attention to him. Slowly slowly I realised that for my parents he was everything and I meant nothing. I hated that feeling and I hated my brother.
When my brother started to talk a bit and walking on his own, then we started playing together. I used to wait for school to end so that I could go back and play with him. That feeling was good and I actually started liking my brother. With time, I also found out that my parents were not biased either, they loved us equally.
Year by year, our relation got strange yet stronger, as it gone through many ups and downs. Sometimes, we used to fight a lot and some other days we were the best brother and sister in the world. Some days we were like the best friends and sometimes we were so jealous of each other that too without any reason.
Now, after so many years, even we both have not understood that what we are to each other. And, we don't want to understand either, because we love each other and for us that is the only thing which should matter. Don't you agree? Of course you do. Then, make it special for your brother this Rakhi through desirable gifts, because this is the day especially dedicated to celebrate the pure relationship between brother and sister. To find super-cool rakhis and gifts online, log on to Ferns N Petals.
Some relations are more than mere names…