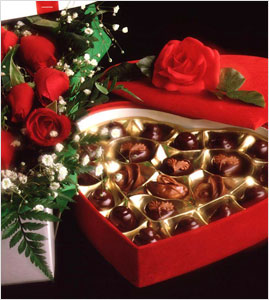 Valentine's Day is the ultimate day of love and passion. Show your love for your girlfriend with the best gifts that you can possibly find. They are available at your fingertips ready to be delivered to your very doorstep. Everyone loves to receive a gift on Valentine's Day and your girlfriend is not just every one. The online stores bring you a vast array of gifts including flowers, gift and wine hampers, cosmetic hampers, chocolates, sweets, soft toys, heart shaped gifts and the like. If you browse the websites you will find something well worth your while to send as valentine's gifts for girlfriend
At the online stores you have the option of choosing from adorable teddies, heart shaped flower arrangements, flower combos that combine flowers with sweets, chocolates soft toys and dry fruits. Send her gifts that she has longed for since her childhood. Chocolates and cosmetics make a rare and unique combination.
Flowers are the ultimate expression of love for Valentine's Day. Flowers are available as roses, flower bunches, heart shaped arrangements, flower baskets, premium arrangements, Valentine's serenades, valentine eve and midnight specials and life sized arrangement. Send her a life sized arrangement and cause a minor sensation.
Flowers can be chosen according to their symbolic meanings. Red roses stand for love and passion. White roses signify peace and stability. Orange roses stand for passion and excitement and purple roses signify happiness and contentment. Flowers on the net are budget friendly and accessible in great variety. They will be delivered to your doorstep in time and in pristine condition within India and abroad.
The online flower combos are awesome. They combine flowers with teddies, soft toys, chocolates, dry fruits, sweets and cakes.
Aside from flowers the online stores carry traditional heart shaped gifts that include flowers, soft toys, chocolates and cakes. What can be more exciting than a heart shaped gift arriving at your girlfriend's doorstep?
If you want to underline the intimacy in your relationship, go for personalized gifts. Personalized gifts carry the stamp of individuality of the recipient and show the thoughtfulness of the sender. Personalized photo gifts are a real hit for Valentine's Day. Choose from a memorable collection of photo frames, canvas pictures, bottles, lamps, mugs, t-shirts etc to make her Valentine's experience unforgettable. Other personalized gifts include cushions, coffee mugs, key chains, pens card holders and caricatures. The caricatures make a lasting expression on Valentine's Day and would thrill anyone with a sense of humor.
Premium gifts for Valentine's Day are sure to impress. Browse through a selection of cakes, soft toys, chocolates, good luck gifts, wine hampers, cosmetic hampers, sunglasses, gourmet gifts, handbags, funny gifts and leather gifts.
Valentine's gifts for girlfriends are new and innovative this year.