Author: Rima Ghosh
We all know that our India is a Sovereign, Socialist, Secular, Democratic, and Republic nation. We pay equal respect to all religions. The Hindi name of our nation is Hindustan because the bulk population here is Hindu. History may say that Christmas is a celebration for the Christians only which comprises only 2.3% of India's population. But there are places in India itself which celebrate Christmas with the same fun, frolic, and excitement as a Christian. The tradition of sending Christmas gifts to loved ones is seen among people of all religions here. And this is one of those occasions when I find my India really secular. I belong to West Bengal and currently stay in Delhi and I have seen these two metro cities come alive like any foreign country during Christmas.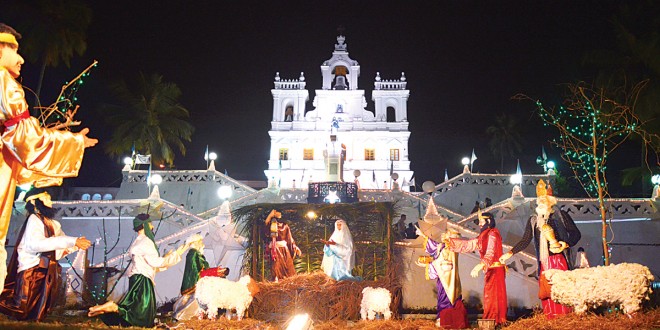 If you enter Park Street of Kolkata during Christmas, you may be beguiled for a while thinking that you are in some other place and definitely not Kolkata. Same feeling I have encountered in New Delhi when I have walked through Connaught Place in this occasions. So, if you think that only you are the one who is having a cake and relishing on that new bottle of wine during Christmas then you are wrong. My India has many more places where the Christmas celebration is massive and those places are enlisted below.
Top 3 Places in India to Celebrate Christmas
Goa from West:
For the obvious reason of maximum Christian population here, this Portuguese hub is the best place to witness Christmas. You must have heard about the Sunburn festival and its brouhaha here. But I would say that visiting Goa during Christmas would be a rocking idea. Believe me, the entire city of Goa is decorated with Poinsettia flowers and glittering lights. Anjuna, Candolim, and Mapusa beaches of Goa are definitely going to take your breath away. 
Manali from North: The 25th of December means, winter chills are in full motion. Seated at a height of 2050 meters from mean sea level, this is the place where people congregate all over the winters to witness snowfall. This snow gives the added bonus to Christmas celebration. The pine trees come alive with snow cover and the glamorous lights make it an endearing show altogether.
Shillong from North East: I have come across with situations where people belonging to North Eastern regions of my India are considered to be outsiders. Due to cultural difference, these are one of the most harassed blocks of people in my country. There have been incidents in past that have slammed my people for wrong treatment towards people of North East. But let's forget all that in this holy season of Christmas and start afresh. Shillong, the capital of Meghalaya is one of the most beautiful locales of our nation and the culture is "just so different and beautiful" here. Coming here once is mandatory and Christmas would be the best time to crawl here where you would find the local bands perform like international stars.
All the great religious and spiritual leaders of the world have preached us to love life and love people. Let's make our India a better place to live by spreading more love towards all in spite of differences in language, culture, or community.