We all feel proud on hoisting of our tricolour flag during international sports events. It is a matter of immense joy when our sportsperson receives an international recognition. However, little do we know about the struggles and hardships which these sportspersons and their families go through? This is one such inspiring story of the mother of P.V. Sindhu, the Olympics silver medallist at the Rio in 2016. Here is a story of how her mother helped the champion, P.V. Sindhu who reached at the top of her game.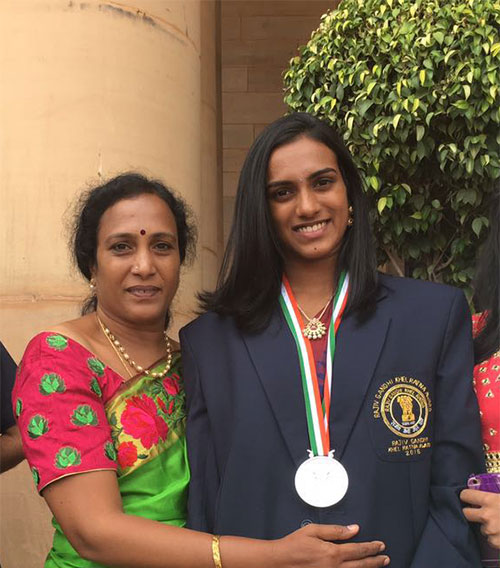 Her life and struggles
The mother of P.V. Sindhu is a great inspiration for all the mothers around the world as she leads her daughter towards victory by being her pillar of strength at all times. P. Vijaya is an ordinary mother but a support system who stood shoulder to shoulder in helping her daughter achieve the success in her career. She performed her duty of raising her daughter with utmost devotion and paved her path towards success. The mother of the world acclaimed badminton player reveals her journey of motherhood despite being a sportswoman herself.
As her daughter had to reach the ground for practice by 5:30 am, the working mother used to wake up around 3:45am every morning to prepare the breakfast. Regardless of their financial condition, they spent 3/4ths of their earnings on their daughter for maintaining her sports practice as well as outdoor sessions. A mother is the backbone behind the success of every child. She goes through thick and thin in day to day life to help her child attain his or her goals. Many mothers call it a sacrifice but P. Vijaya calls it a responsibility. The mother says that the success of her daughter is the combined efforts of the whole family and her coach, Pullela Gopichand.
She was there for her daughter always
The mother shared the childhood story of her daughter who was a child prodigy and showed great temperament in sports activities when she was just 10 years old. The family had a rough patch when P.V Sindhu was injured and their well-wishers advised them to stop her from playing further. However, the brave family and daughter never looked back due to their undying spirit. When asked about the mother regarding the choice of Badminton by her daughter, she exclaimed that it was all a matter of coincidence. The mother of a champion daughter said that P.V Sindhu used to accompany her father during his volleyball practise and used to watch the game of badminton played on the same ground. Thus, what started as a coincidence became her passion.
Though she was excellent in her sport but at the same time she proved her mettle in studies as well. During all those years of struggle, her mother stood next to her. The badminton player attended her classes on a regular basis till the 9th standard. Later on, her practice sessions and matches consumed most of her time and she was unable to give her 10th board exams as she had to participate in the Junior World Championship. However, she attended the supplementary exams and passed the same in a couple of months. Now, her parents said that she took the right decision owing to the present success story of their daughter. "Healthy mind resides in a healthy body. Being a sportswoman myself, I was extremely supportive to her. I believe that every mother must encourage her child to pursue their dreams. The hard work surely pays off one day. It's all about patience and determination a mother has along with positive energy," says P. Vijaya.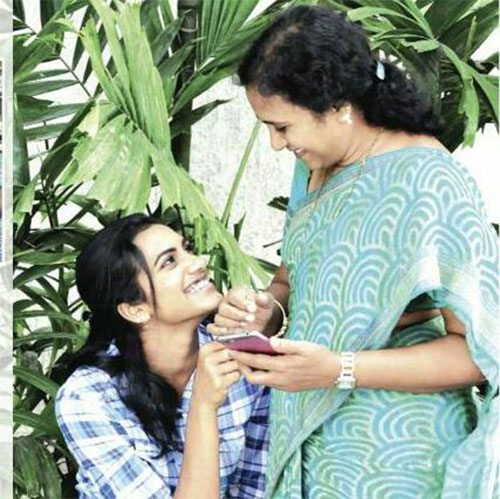 The inspiring mother says that things were entirely different during their time when she used to play sports due to the social stigma and perception. P. Vijaya, recalls that it's because of her mother she was able to support her daughter as her parents supported her and her sisters to play Volleyball against all odds. However, her elder sister had to leave sports due to the pressure of society.
P. Vijaya did not stop due to her parent's efforts and was a part of national Kabaddi and Volleyball team while she was in the 10th standard. Although, the mother of the badminton player had to quit Kabaddi because of invalid social reasons but she continued her game of volleyball and played at the national level. The proud mother has one universal message for everyone. In her words, "Identifying the interest and skill set of your children and then encouraging them to become successful is a key to success. It is the mother who gives up her personal comfort, leisure time and social commitments to make her child successful in the career of her choice."