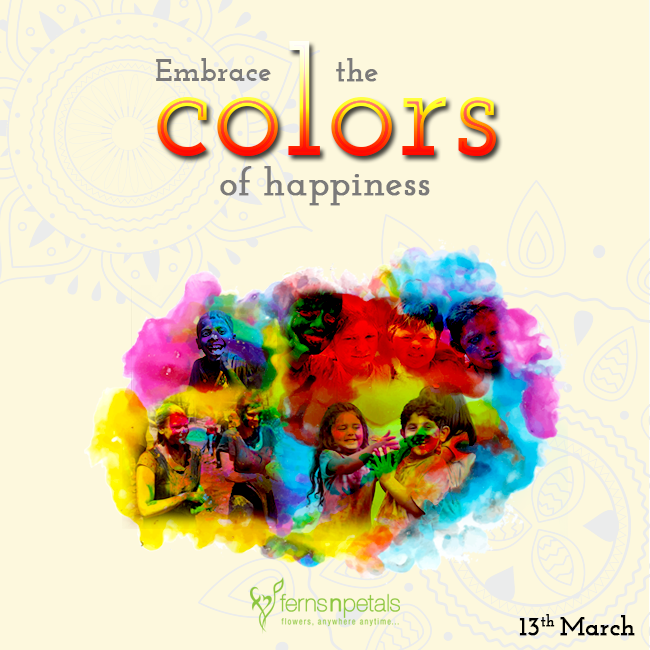 Holi is a festival of enjoying colours, traditional Indian delicacies and embracing each other warmly to celebrate the true spirit of this festival. There are diverse kinds of people who want to play Holi with much fanfare but often forget to protect their skin from the harmful effects of colours used. Although, you can't stay away from the colours if it is the festival of Holi but you can protect yourself from the harmful effects of the Holi colours by following simple practical tips.    
Preparations for going out during Holi celebrations  
It is rightly said that "Prevention is better than cure", so it is important to save yourself from the harmful effects of the Holi colours while being involved in the colourful celebrations. The quick valuable tips shown below can help a lot in this direction.
Apply a liberal amount of coconut or mustard oil on the face, ears, neck, arms and legs before embarking on the Holi celebrations. Perform this essential task about an hour ago while involving in the occasion in order to ensure that the colours are easily washed away. Apart from this, you can use cold creams that form a protective covering on your skin to protect harmful colours from entering inside your body.

In case the individual has a sensitive skin and scalp, he/she can rub a little lemon juice on the skin to prevent the irritations from Holi colours.

To prevent the impact of colours on your skin, you need to cover your body with full sleeved shirts and full pants. For women, you could try out a full sleeve "Salwar-Kameez" or a jeans top for the occasion.

To protect your hairs from the damage of Holi colours, you need to oil your hair with the warm coconut oil, castor oil or olive oil. For people with dandruff problems, they can add 8-10 drops of lemon juice in the oil and then apply it all over your entire body. Â Â Â Â Â Â Â Â Â Â Â Â 

If the occasion appears to be a bright sunny day, make preparations to prevent your skin from getting tanned. Use a sunscreen lotion with a high SPF value to block the harmful UV radiations.

Drink plenty of water before going out for the celebrations as the colours can leave your skin hydrated.

If you are too worried about your nails, you need to apply dark colour nail paint. Also, apply oil or moisturising cream to your fingertips and other areas around the nails. Â Â Â 

Don't forget the areas like fingernails, back of the neck, stomach and other vulnerable areas for protection against Holi colours. Use petroleum jelly or oil to help prevent the stains in these areas.

Avoid doing waxing, threading or shaving your body arms prior to 2-3 days of the Holi celebrations. Â Â Â Â Â 

For protecting your eyes, avoid wearing contact lenses at all. If you have spectacles avoid them too as people can apply colour on your face from behind and this could either lead your specs from sticking too hard to your face or it may even break due to the resistance being shown by you. Similarly, for lips, apply a lip balm, lip gloss or lipstick to prevent colours on your lips and avoid them from getting chapped.
Useful Tips for Post Holi colour removal      
I know sometimes we can't resist the temptation of playing Holi with colours. Or we are most of the times involved in the celebrations by our loved ones due to courtesy, love or by force. No matter what the situation may be, the end result is you are now exposed to the Holi colours. So, the big question arises what now? Don't worry; we can help you out in this gross situation. All you need to do is just follow these simple tips that can help you in this post Holi scenario.
Stand under a running tap for few minutes once you are done with the Holi celebrations in order to wash away off the excess colour from your body. You don't need to perform aggressive scratching, scrubbing or rough massaging to remove colours.

For further removal of the left over colour, you need to use a mild liquid soap on your body. In case the colours are too tough to be removed, you need to go for the home remedies that best suit your skin type.

To ensure proper cleansing of your face, you need to use olive oil with cotton for removing Holi colour from your face after washing your face thoroughly with clean water. Â Â 

Don't use an exfoliator or bath salts for at least 48 hours once you have been a part of Holi celebrations as they can affect your sensitive skin.

Avoid using a steam or sauna session for at least three days as the whole process can lead to the absorption of Holi colours, Holi Gulal and other "pakka colours" by the body. This is because the steam opens the pores of the skin making the body absorb these colours. Further, don't attempt any hard work activities or the tasks that could make you sweat profusely.

In case the colour has entered your eyes, you need to wash it immediately with cold water and visit an eye specialist or ophthalmologist in case the irritation still persists. Â 

For removing colours from your hairs, you need to rinse your hair with a shampoo and then apply a good conditioner for maintaining the moisture in your hairs. You can use natural conditioners like curd and honey, avocado with shea butter and apple cider vinegar that can perform the task easily.
Simple home remedies for Holi colour removal- If you don't believe in the chemical body lotions and beauty products to remove colours, here are the simple homemade remedies that are cent percent safe for your skin. Try out any of these tricks to remove Holi colours in a natural, scratch free manner.     
A mixture of Chickpea flour, milk and lemon- In order to remove the colours easily from your skin without scrubbing it too hard, you need to use this mixture. Create this homemade scrub by adding chickpea flour, milk and lemon along with a pinch of turmeric to remove the colour stains easily. You need to apply the given mixture on your face and other body parts, rub it gently and then wash it off. If the colour still remains, use the mixture for few more days and you can retain a colour free glowing skin after Holi.
Use a Pack of Multani Mitti- To keep the colours off from your skin post the Holi celebrations; you need to use an easily available Multani Mitti Face pack. It can be prepared easily with these tips. Soak the Multani Mitti overnight in water and add a few drops of natural oils like sesame, coconut or any other. Besides this, you need to add 2 tablespoons of milk and 1 tablespoon sandalwood powder into the mixture. After mixing all the ingredients thoroughly into a smooth paste, you need to apply it on your skin, face and other body parts. Leave the mixture on your body for at least 15-20 minutes and then wash it off with cold water.
Hydrogen Peroxide mixture- If you are struggling to remove the dark stains of the Holi colours, you need to mix 1 tablespoon of hydrogen peroxide along with 1 tablespoon of rose water and 2 mugs of normal water into it. To remove those stains from your feet and hands, soak them in the given solution for about 10 minutes. Now, take them out and wash them off to remove those stubborn colours from your hands and feet.
Take the help of lemon juice- The presence of citrus acid inside lemon is the perfect component for lightening up the effect of Holi colours. You need to mix the lemon juice with equal parts of honey and apply it generously all over the body. To make it more effective, you can add curd, besan or gram flour, turmeric and olive oil along with the lemon juice. All these ingredients reduce the impact of Holi colours and help in restoring the old glow of your skin. Â Â Â Â 
For oily skin- You can mix the 2 tablespoons of Multani Mitti with 1 teaspoon of glycerine and water to make the perfect face pack for removing colours from your face. Leave the face pack for at least 15 minutes and then rinse with cold water afterwards. Â Â 
Try out this face pack for normal skin type- In order to remove the colours from your face and body areas, try out this wonderful face pack. You need to mix 1 teaspoon of masoor dal, 1 teaspoon of rose water, dried orange peel with 2-3 drops of lemon juice to form a thick paste together. Now, you need to apply this paste on your face and other areas. Let the face pack dry for some time and then wash it off with water to remove the colour along with the pack. Apply the moisturising cream at the later stage. This is the perfect face pack for normal skin types. Â 
For dry skin- Mix 1 tablespoon of soybean flour and milk along with the glycerine and sea salt to form a paste. Now, apply this paste onto your face and scrub for around 10 minutes. Finally, wash the face with cold water to remove all the existing colours from your face. Â Â Â 
You can enjoy the colours of Holi in a cool way by adopting these simple tips before and after going for Holi celebrations. With these amazing skin care tips, you won't regret your decision of playing Holi anymore and would not have post Holi symptoms like dark Holi stains, rashes and skin irritations. So, enjoy a safe and colourful Holi with these simple to-do tips and be a part of the celebrations without any panic and hesitation.