You can never buy happiness, but you can, of course, buy chocolates – as they say, both are the same things! A chocolate can be called a catalyst that begins a new friendship, ends a fight, and strengthens the existing bond. It also helps to mitigate tension, stress, or anxiety and doubles the happy state of the mind. Over the years, chocolate has become a major part of love and romance and that's why it finds a respectable place in the Valentines Week. Here are some of our best Chocolate Day gifts that you can buy for impressing your love interest.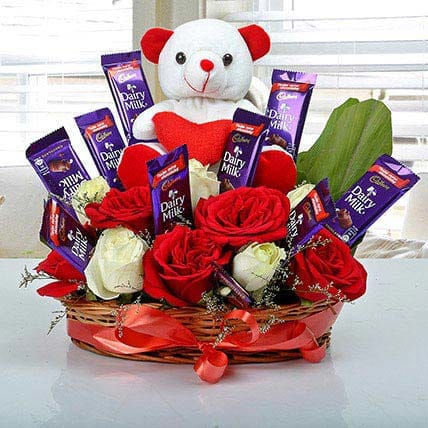 Special Surprise Arrangement
Surprise is a lovely word. We all love it in big, medium, and small forms. Remember that your sweetheart is always expecting a surprise gift from you on the day or eve of every special event. Someone said that "Surprise is the key to all art". Gifting is no less than a refined art. You may pick up the simplest things, but with the beautiful packaging and the way you present it – becomes the secret weapon in the way of happiness. "Special Surprise Arrangement" is one of our best-selling Chocolate Day gifts and you cannot go wrong with this gift. It comes with an endearing teddy bear, alluring red roses, blissful white roses, and mouth-watering Cadbury Dairy Milk chocolates in a beautiful cane basket. This is the best gift you need when your heart is filled with pure love for that innocent soul who has showered sweetness in your life.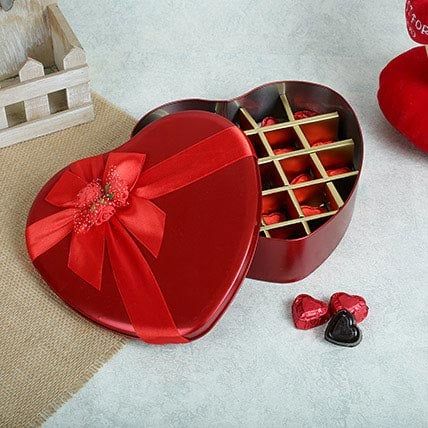 Assorted Red Heart Chocolate Box
The heart is the most special body part. We feel and think from there. We entice the heart in every possible way not to slip away. But that's the nature of the heart – it slips away from your control and belongs to someone else. That's when the love songs hold meaning for you. So, on this 9th February, order this captivating "Assorted Red Heart Chocolate Box" comprising of cute heart-shaped chocolates. A chocolate is also a wonderful way to relieve stress and depression. Thus, it is also thoughtful and careful gift option apart from just being enjoyable. Therefore, let the sweetness arise in your relationship with these tasty and romantic Chocolate Day gifts.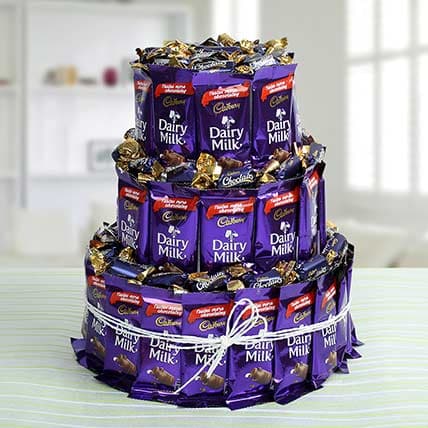 Three Layer Chocolaty Wishes
You just cannot afford to be shy in your proposal of love. You should know the silent ways to express your heartfelt love to that special someone. "Three Layer Chocolaty Wishes" is one of our heart-warming Chocolate Day gifts which would show your love in abundance to your sweetheart. This is a three-layer arrangement of Cadbury chocolates and we simply know that your sweetheart would love it. Cadbury is not only a brand of chocolates – it is a nostalgia, childhood, first crush, countless friendship, and what not! We all have our special emotions entwined with Cadbury milk chocolates and we know that nothing can be as sweet or endearing as this one. Thus, make a sweet move in your love and romance with this magnanimous gift idea.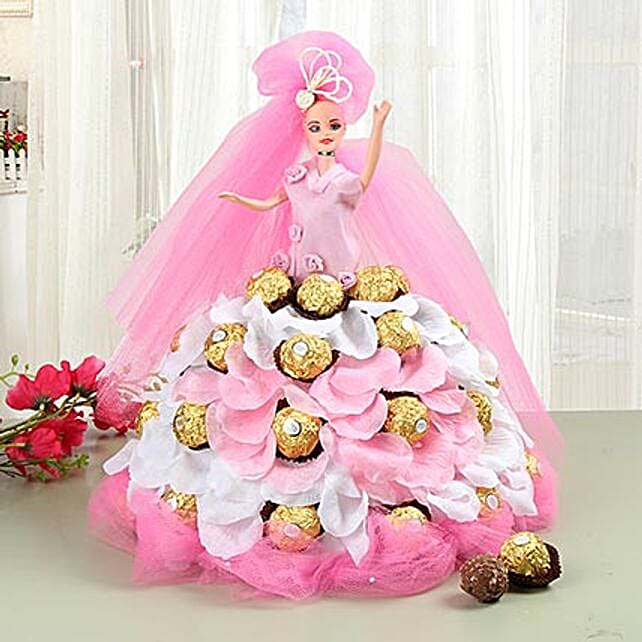 Dignified Pink Bouquet
She is the princess of her kingdom who loves to rule the hearts of people with her million dollar smile, sweet attitude, impeccable fashion, and sharp intelligence. If you have fallen in love with her, don't shy away and present this captivating "Dignified Pink Bouquet". This is one of our sweetest Chocolate Day gifts and that special someone would be elated receiving it. It consists of Ferrero Rocher chocolates and a cute doll decorated with white and pink artificial rose petals and pink net. Pink is the silent color of affection, friendship, approachability, harmony, and inner peace. So, approach her with this sweet gift and make her your best friend for life.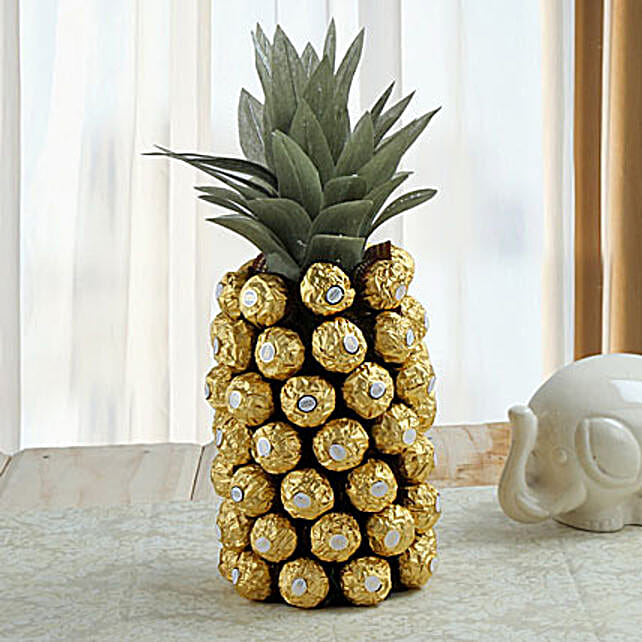 Great Indulgence
Art is that place where work meets love. A true representation of this saying is this beautiful chocolate art named "Great Indulgence". Here is a pineapple-shaped arrangement that is made from tempting Ferrero Rocher chocolates. If you want one of the most unique Chocolate Day gifts, you must order this one. Everyone appreciates the taste of Ferrero Rocher chocolates. So, it's obvious that your darling would also love it! The sweet, crunchy, and mouth-watering taste of Ferrero Rocher chocolates would simply bring in more love, peace, happiness, prosperity, and romance to your life. Imagine the sweet smile on someone's face who staying miles away from you upon receiving this artistic chocolate day gift.
When every other person is opting for a box or bars of Chocolates, you must be different from the crowd! A chocolate bouquet, arrangement, decorative art, or combo with other products are our approach towards providing you an unforgettable day of love. Hope you loved these awesome Chocolate Day gifts. Therefore, order them now and ride on chocolaty romance!
#ExpressYourLove #Valentine'sDay2018 #ChocolateDayGIfts #ChocolateDaySpecialGifts #Love&Romance