The loveliest time of the year is here when you find only love and romance floating all around you. 10th February is selected as the Teddy Day when lovers or secret lovers express their lovely feelings with a teddy bear. We have some awesome Teddy Day gift ideas for you which would add more shine to your celebration.
Only falling in love and proposing it is not enough. You have to keep on rejuvenating your love with a sudden shower of gifts. In fact, every day of the Valentines Week gives you the opportunity to rejoice the feeling of your love which is also the reason for your well-being. Explore some of our best-seller Teddy Day specific gifts here.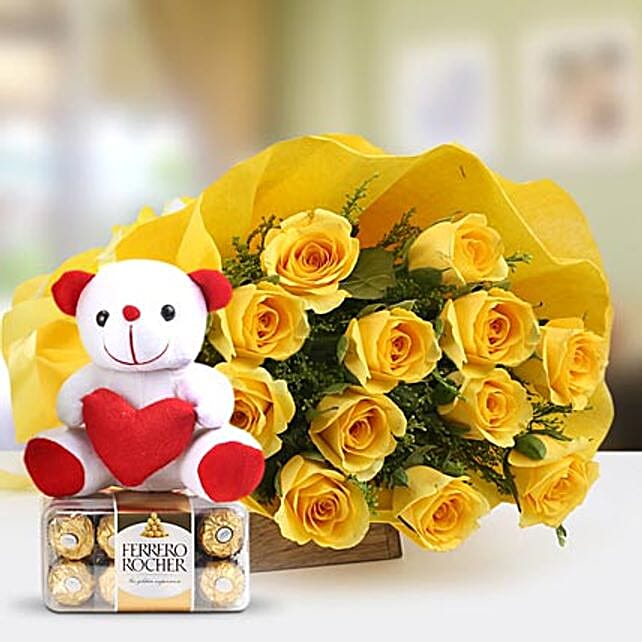 Care Express:
The most effective medicine in this world is love and care. These two things often the opposite side of the same coin heals anyone and everyone. This Teddy Day, make her feel comfortable in your love. Give her this wonderful combo of twelve yellow roses, one soft toy, and a cheerful box of Ferrero Rocher chocolates. The bright yellow flowers would promise her a forever friendship, the soft toy would let her always be child-like in front of you, and the box of chocolates would let your relationship become sweeter. So, you can express your feelings of love and care beautifully through this awesome combo.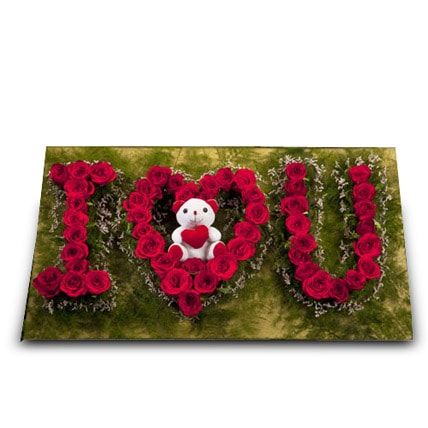 I Love You:
Away from all the noise of the city, far from the cacophony of life, all she wants is an assurance of your love. This Teddy Day, flatter her with this exquisite red roses and teddy bear arrangement. The words I LOVE YOU are depicted in this arrangement and LOVE is presented through the shape of a heart. Amidst this gorgeous red roses, a small red and white teddy bear is kept that is adding the extra cuteness to this gift. So, if you still have not said those magical words of love to her, on this Teddy Day, go ahead and present this gift.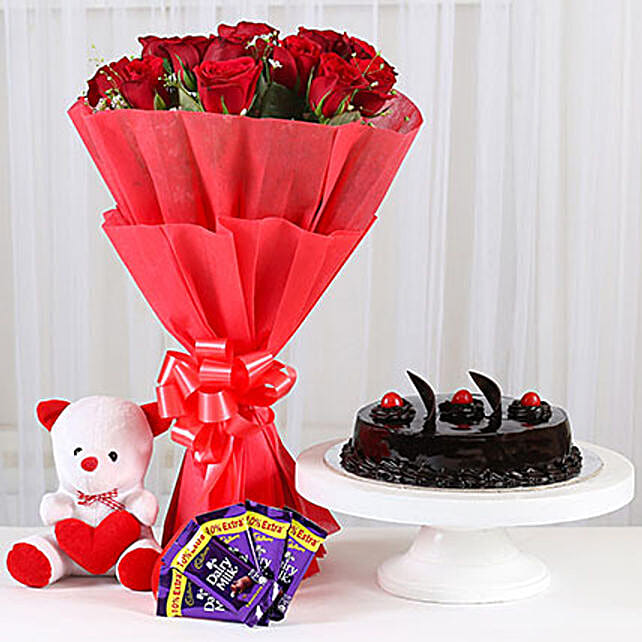 Sweet Combo for Sweetheart:
You always want to splurge all the best things of the world on the special person of love. Teddy Day is the day to let a special person understand that you have a special soft corner in your heart for that person. Valentines Week is all about celebrating the beauty of love and romance. So, we have gathered a bouquet of 15 red roses, 5 Cadbury Dairy Milk chocolates, one teddy bear, and a half kg chocolate truffle cake. This is one of the mesmerizing Teddy Day gift ideas which would sweep off her feet! Therefore, you must buy her this combo of overloaded sweetness.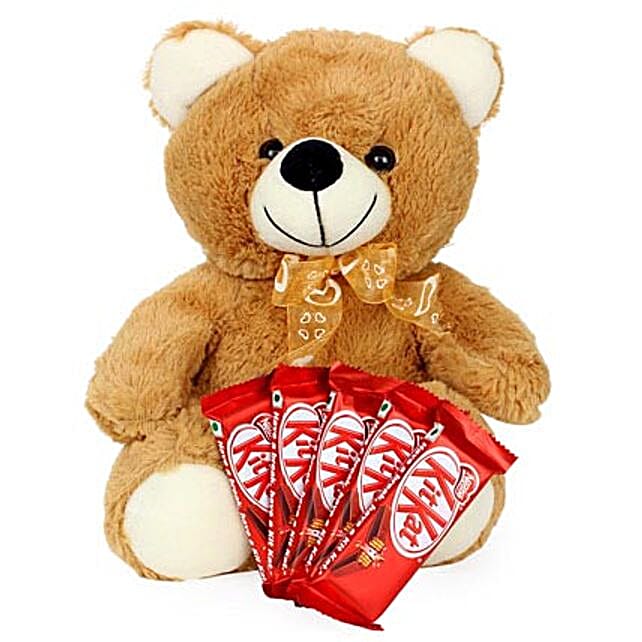 Teddy & Chocolate Love:
To complement the tenderness of your sweetheart, we have some fabulous Teddy Day gift ideas for her. A light brown colored teddy bear is holding five Kit Kat chocolates – isn't that a soothing sight? So, to raise the sweetness in your relationship, this would be a wonderful gift idea. The sweet, chocolaty, and crunchy Kit Kat would be a perfect combination along with a delightful teddy bear on this day. Therefore, with Teddy Day celebration, keep your bond sweet and strong.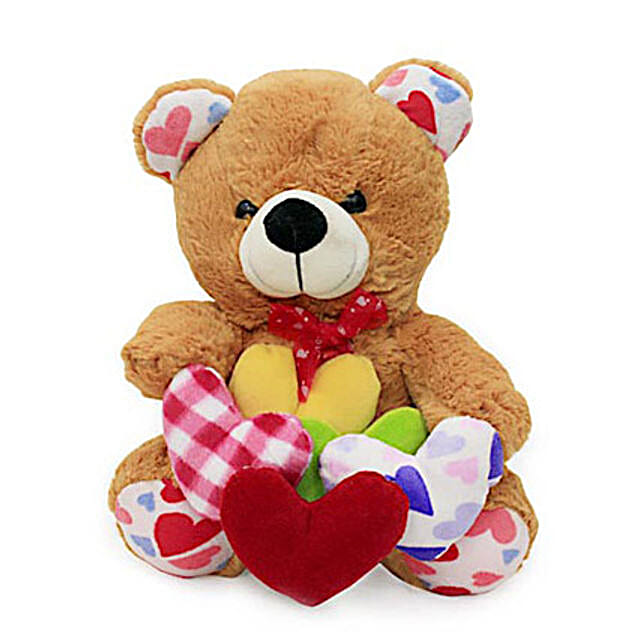 Teddy With Many Hearts:
"Meeting her was your fate, becoming her friend was your choice, but falling in love with her was beyond your control". You can never actually know when you fell in love with her. Here is a cute brown colored teddy bear that is holding many colorful hearts. Isn't that just adorable? These colorful hearts show all your shades of love for her. Therefore, go ahead with this unique teddy day gift and make her fall in love once again.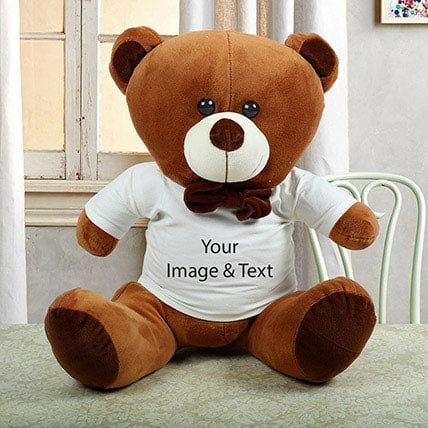 Brown Personalized Teddy:
Yes, you read that right. We are offering you a personalized teddy bear. A small and cute brown colored teddy bear is here wearing a t-shirt. You can now personalize this t-shirt with a lovely image of your sweetheart and a lovely message which depicts her or narrates your feelings for her. With a message, the cute teddy bear becomes all the more endearing. Among the crowd of a variety of Teddy Day gift ideas, this one is really a heart-charmer. So, you can put up a couple image on this t-shirt with a simple "I LOVE YOU MORE THAN WORDS" message on it. If she is away from you, holding this teddy bear would always make her feel your warmth.
Love is the only truth of life and you must always make the slightest moves to keep your lover happy. The time from 7-14th February is a wonderful time to express your love for that special person. The best part of this whole week of love and romance is that, if you select your gifts well, you won't require extra words. So, if you have been in love secretly, let that person know how you feel on this Teddy Day. Thus, use these lovely Teddy Day gift ideas to attract more love, peace, sweetness, and happiness in your life.
#ExpressYourLove #Love&Romance #ValentinesWeek2018 #TeddyDay #10thFebCelebration