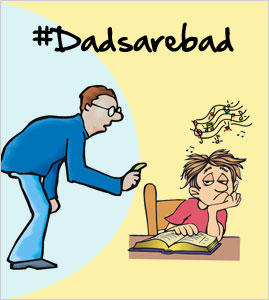 Homework..Homework…Homework!! One of the biggest problems when we were young was homework. And whenever we tried to skip it, then our dads never let us do so with hundreds of not-so-good reasons. God! Why didn't our fathers understand that how much the word 'homework' used to piss us off? We had so much burden of studies, first school, then homework and on top of that our very own dads forcing us to study day and night.
How many of you agree with me? Almost everyone, right? How stupid we were that we didn't even understand our fathers' concern behind all his scoldings. It was so simple that homework would help us not him, but no, that thing never occured to our mind. Fathers always thought of our good, no matter how much we disliked them.
Now, when we have become a successful person, we understood their importance in our lives. No other person can take place of our fathers and this calls for a grand Father's Day celebration. Ok, if not grand atleast a more than special celebration. And, what about gift? Any celebration is incomplete without a perefect gift to go with it.
Do you want out-of-the-box gift for your dad? If yes, then log on to FNP, without further ado. Ferns N Petals has come up with so many interesting and unique gifting ideas for this Father's day that no one could even think of. Checkout some of the best picks for dads at FNP to make it a Father's Day to remember lifelong.
It's not about being bad, it's about being dad!