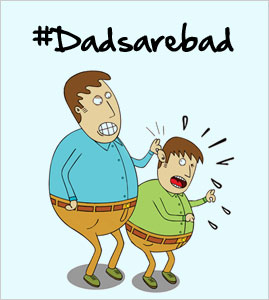 Your childhood is incomplete without being punished by your dad for lying to him. Though we never planned to lie to our dads, that was something spontaneous because of their fear. But, our fathers never understood us and our reasons behind lying, just punished us to teach a lesson. And for us as kids, punishment was something very big and it forced us to hate them.
How many of you lied to you parents when you were kids? I know, almost everyone. Was that habit good? No. That was what our fathers wanted us to take a lesson for, through punishment. We ourselves hate lies, no matter how much we lie to others. Our dads just wanted us to get rid of this habit because he knew that how much it hurts. Finally, we succeeded to improve ourselves with his punishments.
This Father's Day let your dad know that how his punishments helped in molding you into a better person through an interesting gift. These days internet has made choosing a gift an easy task with hundreds of 'the perfect' gifting ideas that would guarantee the biggest grin on your father's face. And, if you really want it to be the perfect day ever, then log on to FNP without any doubt.
From cakes and gadgets to fun and thoughtful gifts, you get anything and everything at FNP. If you further want to give a personal touch to your gift, then you can go for personalized gifts. No matter what you choose, these gifts would definitely convey your feelings louder than words.
For every good behind bad, there has to be a dad…