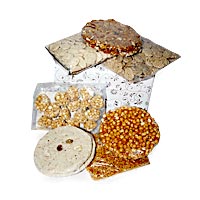 Bid goodbye to the freezing cold winter with the palpable wave of festivals and celebrations of Lohri. The bonfire special Hindu festival celebrated especially in Punjab, Haryana and parts of Himachal Pradesh is a long awaited festival intended to celebrate the harvesting of the Rabi crops. It is celebrated with traditional folk songs and dance.
According to Hindu calendar, Lohri falls in mid-January and marks the end of winters. If we go by the the belief of Bhagavad Gita, Lord Krishna manifests himself in full magnificence during this time of the year. It is the time that is considered to be a good time to nullify all the sins by bathing in the holy river Ganges.
On the Lohri day, children go door to door singing and demanding lohri 'loot' in the form of 'Bakshish' and eatables like till(sesame) seeds, peanuts, jaggery, or sweets like Gajak, Rewri and many more. it is similar to the Halloween trick or treat for the children in India. During the evening, with the setting sun, huge bonfire is lit in the harvested field and in front yard of the houses. People gather around it and circle around (parikrama) the bonfire while throwing puffed rice, popcorn into the fire while chanting prosperity for their family and friends. This is a prayer offered to the fire god to bless their land with prosperity and abundance forever.
And with lohri comes the most amazing winter savories like Makke Ki Roti with Sarson Ka Saag and delectable like gajak. Rewri. So wish your loved ones in this special occasion with the exclusive range of winter delectable with ferns n petals.
With the amazing gift hampers of Lohri special you can add a lot more sweetness to the celebration. Enjoy with the mouth watering Gajak and Rewris and make your day overwhelmed with joy and merriment.
A good gift to sweeten your relations with your friends and family.