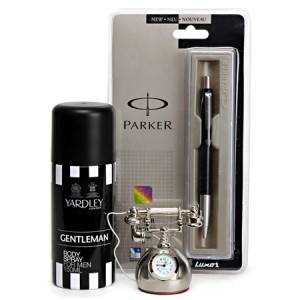 Ferns N Petals have come up with new and exciting gifts for him to usher in the New Year. Our amazing gifts are symbolic of new beginnings and bode good luck for the New Year.
Gifts for him encompass men's accessories, green gifts, bar gifts, personalized gifts, sunglasses, green gifts, Exotica ties, experience gifts, sun sign gifts and books.
A Useful present for Him is a thoughtful gift that has a body spray, tie and chocolates. The personalized photo mug is a classic and will always remind him of you. The personalized Your Face lamp is a lasting memory of the two of you together. Send your best photographs to be printed in this awesome gift. The special personalized beer mug is just right for him to enjoy with his drinking buddies. Gyming special for fathers is to encourage him to take a healthy step in the right direction. Help him to have a healthy New Year with this encouraging gift that will bring him good health.
A healthy treat combo from Ferns N Petals is another thoughtful gift. The combo includes Reebok Siper, Gatorade Sport Drink (Blue Bolt Flavor) Sugar Free Tiffany (Oatmeal Cookies), Tetley Elaichi tea bags, Taj Mahal tea bags and a Wooden Tray. It is sure to invigorate and refresh him.
Make him feel and look special with the ferns N petals gift of Special gift for special him. This combo is comprised of a parker pen, paper weight in telephone style with a small watch on it and one yardley body spray.
Men's Accessories consist of neck ties and handkerchiefs. New year personalized gifts underline the element of intimacy in your special relationship. Personalized gifts include bottles, lamps, mugs, photo frames, key chains, and bottles.
Green gifts are dominated by variations of the lucky bamboo plants that are eco friendly and bode well for the future. They are harbingers of good luck.
Our impeccable delivery system is designed to make your New Year day perfect. We hope that this New Year will be the very best you have ever had.