Christmas is the occasion of love, the occasion of friends, the occasion of lights or you may term it as the occasion of surprizes. Children get delighted by listening to the thought of Christmas, they simply love Christmas. The little kids are so fantasised by the thought of Santa Claus that they make their wish lists at night and sleep with the belief that Santa Claus will grant all their wishes! And sometimes, the parents, in order to make their child happy, they keep presents for their kids and decorate the house with a lightening Christmas tree and other mesmerising decorations.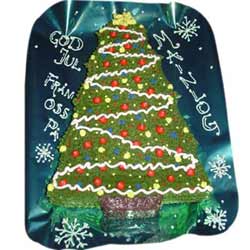 Christmas is a traditionally a festival of the Christians, they perform their holy prayers and visit the church on this day whereas these days, Christmas is celebrated not only by Christians but by people of all religions. In fact not only Christmas, nearly all the festivals are celebrated by everyone due to the high diversity of religions in India. You can make this Christmas special for the people you love. All you need to do is visit the nearest store of Ferns N Petals and order from a wide variety of cakes, chocolates, Christmas decorations and the selected item will be delivered on the given address within no time. This will not only make others feel happy but will also develop your bond with them.
You can even visit our website www.fnp.com and order for your desired objects and bring a sweet smile on anyone's face.You even get really good discounts all across the year. We don't even charge for home delivery so don't miss this exiting chance and keep ordering from Ferns N Petals. Christmas is a festival which in incomplete without gifts, people clean up their houses and throw away all the old and waste stuff to make space for some new merchandise to enter. So why not give something to our loved ones, to make their festival special. This will not only make them happy but also build bonds and strengthen your relationship.
Ferns N Petals is always there to help you express your feelings and emotions and make people happy. So hurry and grab this opportunity before it is too late. Say everything you want this Christmas, leave no stone unturned, you have the chance and you have the occasion so just go for it.