Any occasion and flowers can just brighten up someone's mood hake happy moments more special and each moment worth living. This is the magic a flower can create so why not gift a spectacular bunch of flowers to someone really special and make them super happy this New Year. Let them start their new year with some freshness and nice fragrance around them and gift them a smile on the first day of a brand new year.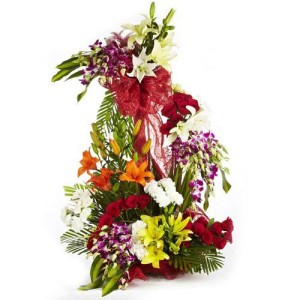 Now if you are thinking and trying to focus on from where to get the bouquet then simply do not take tension and simply approach Ferns N Petals because we believe in having solutions for all your problems and so if you wish to order bouquets you are most welcome as we are especially introducing some wonderful range of flowers on the occasion of New Year because we thought as we are approaching a new year and moving ahead leaving our past behind then why not do everything new. The flowers which have especially been brought from abroad will definitely make your loved ones happy and they will realise how much you love them and miss them.
We have a wide range of designs from which you can select and we promise you, we will replicate exactly. The combination of red and white roses are very much in demand this season and stay for more than a week.If you are finding it difficult to track us or keep hold of us then simply join us on our website and start placing your orders as soon as possible .we have various unique patterns and combos which our customers can use to make best out of our offers. Placing orders online has various benefits like saves time of customers, make decision making more easy, offers a variety of designs to choose from and gives the customer the liberty to decide his/her own designs and online ordering is generally cheaper than store visits.
We assure you that all our designs are extremely unique and definitely a one that your loved ones would have never received. Spreading love not only mean you need to visit them personally by sending them flowers, gifts or cards occasionally also you can keep them stay connected with yourself even when far away. So what are you waiting for come and grab the best bunch and spread smiles this New Year.