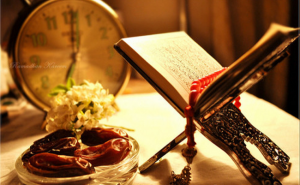 Marked by the sweetness of dates, the echoes of azaan, the days of fasting, the nights of ibadah the dawns of sehri, the dusks of lavish iftaar, the most awaited and the most blessed month of the year, Ramadan or better called as 'Maah-e-Ramdan' has arrived! The news flashed on the television screen hung up on the office reception wall. My facebook timeline starts to get flooded with the festive posts and while checking all of them, I travel back in time when looking for the beautiful silver moon in the sky used to be the most fascinating thing.
The memories of papa, answering to the call to prayer, dressing up in pure white kurta-pajama and those two drops of itr… The fragrance of his itr used to spread in the entire house and not to forget his white cotton cap… All of it is flashing in front of my eyes right now! And while I am revisiting that beautiful time at home, mumma's extremely special menu for iftaar can never go unaddressed. How can I ever forget to mention the sugary dates, the kheer, the fruit salad and my favourite pakori… Each and every piece of food kept on the table, tasted equally amazing after the entire day of fasting.
You might relate with this nostalgic feeling that comes every year at the beginning of this month. And especially if you have made your living far from your home, it gets even severe. The bright lit bazaars, the 24 hours open food joints, the sweets from nukkad wala halwaai and a hell lot of things that you can easily find around your current address too, but the charm of your own city makes the festive season even more special. Talking about the special feel, I suggest you to add a little spark to this Ramadan for your family and friends by surprising them with a gift that they would relish, just like I did!