This is the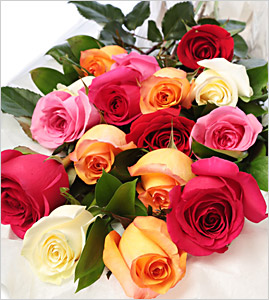 season for romance. There is no better way to show your love and admiration for your loved one than with a gift of the most awesome roses. Roses for Valentine's Day are a 'must have '. Contrary to popular belief, roses are not merely for the incurable romantic; they convey feelings of admiration, appreciation, companionship and friendship. For that special person in your life, who may be a friend, lover, colleague or family member send a bunch of the freshest roses.
Ferns N Petals are established rose experts who specialize in long stemmed red roses and brightly colored roses. You can also customize your gift of roses to please your fancy. Whether it is a single rose you choose or a blooming bunch, our flowers are sure to make the right impression. We have delivered fresh flowers and gifts to friends and relatives over the years and have a deep and rich experience in gifting. You can rely on us to transform your valentine's day into something magical.
If you would like to offer your valentine a bunch of roses, you have come to the right place. Ferns and petals has a wide and inspiring selection. Consider for a moment the significance of roses according to color. Red roses have signified love, passion and romance over the ages; pink roses signal appreciation and admiration; yellow roses stand for eternal friendship and the white rose heralds peace and calm. Orange roses signify excitement, and purple roses symbolize love at first sight.
Ferns N Petals is the country's foremost online florist. You can rely on our services to make valentine's day a resounding success. Our online delivery system is proficient and always on time. You can count on us to deliver your gifts in pristine condition.
Call ferns N Petals for that eagerly awaited delivery that shows just how much you care. We have all it takes to lift spirits- the freshest blooms and an encouraging smile. Choose roses for Valentine's Day and cause a stir. A very happy Valentine's Day to you and yours on this delightful occasion.